Schaufele wins gold for cello exam
Posted on November 6, 2014 by Bow Island Commentator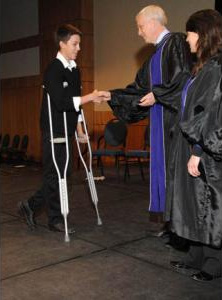 Graham Schaufele shakes hands with Royal Conservatory chair, Michael Foulkes at a medal ceremony in Calgary on Sunday.
Bow Island's Graham Schaufele can add another gold medal to his collection after achieving the top mark in Alberta for his Grade 8 cello examination.
Regional gold medals are presented each academic year (Sept. 1 to Aug. 31) to Conservatory examination candidates in Preparation A and B and Grades 1 to 10 to those who achieve the highest marks in their province or designated area.
Gold medal ceremonies are held each year, often in conjunction with Convocation ceremonies, to recognize the students' achievements and acknowledge the contributions of their teachers.
Schaufele's teacher is Christine Bootland.