Snow and strong winds blow through region
Posted on January 13, 2015 by 40 Mile Commentator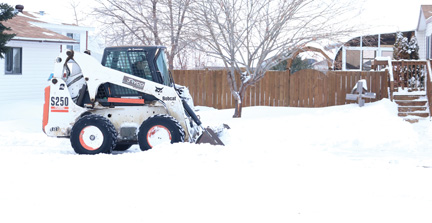 Henry Thiessen was in for a surprise when he returned home from Mexico on Jan. 8 and found he would need more than a shovel to clear away the snowdrifts that had piled up while he was gone.
The new year certainly blew in with a flurry in southeast Alberta, with plunging temperatures, accumulating snow, and strong winds.
The weather station at Etzikom was reporting 14.9 cm of accumulated precipitation as of Jan. 10, while the Bow Island North weather station was showing 17.2 cm of accumulated precipitation on the same day and which recorded Jan. 6 as seeing the most precipitation at 8.3 cm. By comparison, the Foremost weather station reported 17.5 cm of accumulated precipitation on Jan. 10, with the bulk of it, 10.3 cm, falling on Jan. 6
The accumulations are not not of the ordinary for southern Alberta in January. Rather, the strong winds that accompanied the snow created serious drifting issues throughout the county with many rural people avoiding travel on some of the rural roads during the first week of the new year.
People in rural southern Alberta are accustomed to inclement weather during winter months and plan their road trips accordingly.
511.alberta.ca is an excellent tool for motorists as the road conditions can vary vastly between points of travel. The downside of the site, however is that only single and double digit roadways are shown. Triple digit roads are currently not included. Also, be sure to check the Weather Network forecasts before heading out.
Folks were also shoveling often on those windy days when the drifts were quickly piling up again after the shovel got put away. People with health issues, such as heart disease or back problems need to take particular care when shoveling and Alberta Health Services offers some tips for snow shoveling to avoid injury and strain to your back and heart:
Shovel soon and often: Fluffy new snow is easier to lift and remove than snow that's been trampled and packed down. If you shovel frequently you will not have to remove as much at once, reducing strain on your back.
Go slowly: Fifteen minutes of snow shovelling counts as strenuous physical activity, so don't push it, particularly if you normally lead a sedentary lifestyle. Because shovelling requires so much effort, your heart rate and blood pressure can rise quickly. Shovel for a few minutes and then take a break. If you feel any pain in your chest or your back, stop immediately.
Avoid too much lifting: If you can, push the snow instead of lifting it. This also helps you to avoid twisting movements that can hurt your back. Consider investing in a snow pusher instead of the conventional shovel, or a shovel with a small plastic blade.
Stay straight: Keep your feet together, as close as possible and bend at your knees, keeping your back straight when lifting snow.
Don't do The Twist: Avoid twisting when you toss a shovel full of snow—always throw it in front of you instead of behind you. And don't overload your shovel—keep it light.
The layered look is in: Layer your clothing to avoid overheating. Synthetic fibres help wick away perspiration better than natural fibres such as cotton. Your body's core temperature can drop quickly in cold weather, so be sure you don't remove too many layers!
Take a balanced approach: To help you stay upright when working outside in slippery conditions, wear low-heeled shoes or boots with non-skid soles. Keep extension cords out of the way and avoid letting a frisky family pet underfoot. Watch where you walk and move consciously.
Snow shoveling can be good exercise if you are mindful of how your body is feeling while you are doing it. Out-of-shape adults who suddenly increase their heart rate also increase their chances of having a heart attack. You are at a greater risk for a heart attack if you:
-Have previously had a heart attack
-Have heart disease, high blood pressure or high cholesterol levels
-Are a smoker
-Lead a sedentary lifestyle.