Family loses everything in fire
Posted on January 14, 2015 by 40 Mile Commentator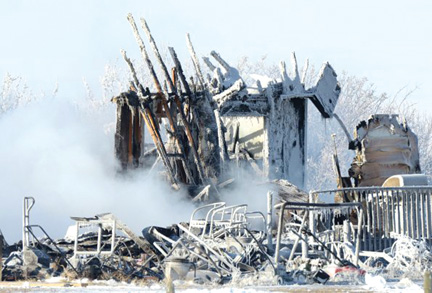 PHOTO BY EMMA BENNETT - A Bowell area family lost their home to fire last Thursday night. Firefighters from Box Springs and Medicine Hat fire departments attended the scene. The family escaped the home without injury.
By Collin Gallant
Southern Alberta Newspapers
A rural structure fire north of Bowell Thursday night has destroyed a young family's home and garage though no injuries are reported after a frigid night for fire crews.
"The house is a total loss and they are a couple with young kids," said Ray Gradwell, deputy fire chief of Cypress County.
"They were at home at the time with another couple having supper when they saw flames in the garage. They got out and had time to get some of their belongings. No one is hurt but the house is a total loss."
Units from the Box Springs Volunteer Fire Department and the Medicine Hat Fire Service responded to the fire on Township Road 144, about 12 kilometres northwest of Medicine Hat. The fire began shortly after 8 p.m. Thursday.
Crews battled the flames until 2:30 a.m. Friday but the residential buildings were destroyed, though barns and other outbuildings were not. No animals that were on the acreage were injured, said Gradwell.
The couple is not being named at this time but has two young sons, according to family friend Rachelle Dreger, who is just happy that everyone is safe.
"They're staying with friends and don't have a lot of room for stuff," said Dreger, owner of the Redcliff Hylton, which has announced the Inn will collect gift card donations to help the family.
"They left with nothing — no clothes, nothing — so we're collecting basic (department store) giftcards so they can get some clothes, bottles for their son, diapers, stuff like that to help out. They don't need a bunch of stuff but this will help them get going."
The couple has home insurance, said Dreger, adding they don't have space to take in donations of clothes or wares at this time.
Firefighters faced harsh conditions during the evening, according to Gradwell, who said temperatures were in the minus-28 C range at the start of the fire and dipped as low as minus-32 with a strong wind overnight.
"It was really bad, right at the bottom end," said Gradwell.
Fire crews were back on the scene Friday to monitor hot spots, while other crews in both the county and city were repairing equipment damaged in the cold.
"Trucks are all back in service, there are some valves that were broken or frozen but they're getting repaired or replaced," said Gradwell.
"We're filling up and drying out clothing and equipment."
The Box Springs Volunteer Department was the lead agency, though Medicine Hat supplied a water-hauling tender truck to fight the blaze in the rural area.
Medicine Hat platoon chief Terry Flaig told the News that four members and a water tanker truck were dispatched to the rural location. That complement was able to keep warm by rotating in and out of the truck.
Frozen temperatures did break a valve on the Medicine Hat unit, which Flaig said would be repaired and insulated on Friday.