National snowboard cross competitor visits Elkwater
Posted on February 10, 2015 by 40 Mile Commentator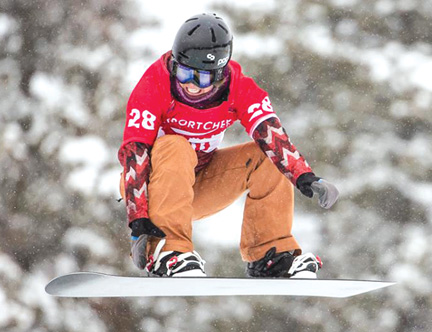 PHOTO COURTESY OF MICHELLE BROUDEAUR - Snowboard cross professional gets some air in this photo taken at Lake Louise. Broudeaur was at Elkwater recently for Winter Festival.
By Carlie Connolly
Michelle Brodeur has been working towards her goal of snowboardcross since she was 15 years old. She knows that with hard work comes let downs, but that didn't stop her from reaching her goals. Finally after not competing due to injuries, she was named onto the National Team.
"It was almost like a weight had been lifted off my shoulders," she said.
Originally from the Northwest Territories, Brodeur has lived in Whistler for four years and made the move to Calgary to attend school, where she is currently taking architectural technologies. She decided that 2014 was her year, since she didn't make the Olympics, and decided that school was a smart option. She was an alternate for snowboardcross for the Olympics, and so made going back to school her deadline a few years ago.
Different from snowboarding, snowboardcross consists of six people racing down a track that course builders have made up with jumps, berms and obstacles that the rider can gain and lose speed on. The goal is trying to be in the top half in each heat. Three people from each heat would move onto to the next heat and that's how they could eventually make it to finals.
Brodeur has always loved snowboarding since she was 11. She was in a club with all of her friends. The boardercross coach who was the most involved with the club, thought that she had talent.
"I always wanted to ride with the boys too. The girls would always go with the coach, and the boys and myself would always go with the coach."
The snowboardcross coach, who was the most involved with the club, thought that Brodeur had talent and pushed for her to start competing. That's when she really started competing and moved onto bigger and bigger competitions.
She's had some pretty big accomplishments over the years, and an obvious one for her was making it onto the National Team. She was also very proud, when she scored 15th on the World Cup Tour, which was 15th in the world at that time.
"That was the best I've ever done, so I was really proud that year. I just felt strong that year and competed really well."
Having lived in Whistler and being minutes from the gondola, she couldn't live without the winter months, but hasn't been snowboarding as much due to deadlines and projects with school.
"Its tough being in school. It's just a change from everything that I've always been doing," she said.
With snowboarding being her main passion, she also enjoys drawing portraits. Last year she sold four portraits and had an acquaintance of her put them up in her bakery to sell. She did this on the side when she was injured from snowboarding.
"Sometimes it takes over your life so if you don't other things to do and if it gets discouraging, like sometimes snowboarding did you can kind of become pretty miserable."
Two torn ACLs, both shoulders torn out, and bad concussions are some of the many injuries Brodeur has suffered in her career, and decided it was time for her to take a step back and stop competing.
"It is a tough life being an athlete. It's hard to make good money while doing it. You have to sacrifice a lot being an athlete and at that point its just like ok now I'm sacrificing my health and like how much do I want to sacrifice my health? I get one vessel!"
Her advice to others who wish to compete and be professional athletes came down to two words: Resilience and perseverance.
"Because you always kind of see it going one way and there's so many things that are going to happen along that way like setbacks. It's never a straight clear path to where you want to go. There's always bumps."
Brodeur visited the Hat for the first time on the weekend to attend a few schools, along with the Snow Days event in Elkwater, where she gave a speech to the kids competing. She also did the ribbon cutting, along with talking at a few schools.
Brodeur hopes to go back to Whistler or Vancouver one day, and can still be seen riding the slopes recreationally.