Driver sustains only minor injuries after vehicle hits train
Posted on February 24, 2015 by 40 Mile Commentator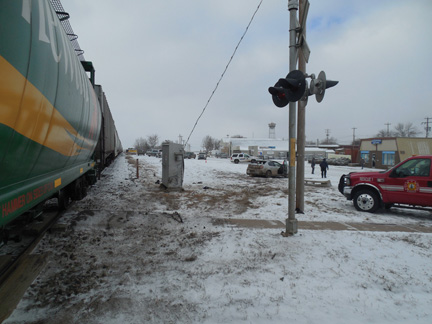 PHOTO COURTESY OF BOW ISLAND RCMP - A 23-year old driver is very fortunate to have sustained only minor injuries when the car he was driving struck the side of a passing locomotive on Sat., Feb. 21.
A 23-year old male has been served with a violation ticket under the Traffic Safety Act after striking a passing train at the marked, controlled railway crossing on Centre Street in Bow Island.
According to an RCMP media statement issued on Monday morning, the Bow Island fire department and Bow Island EMS, along with RCMP officers responded to a call of a collision between a car and Canadian Pacific Railway locomative at approximately 10:20 .m. on Sat., Feb. 21.
The car was travelling southbound on Centre Street and struck the gas tank (located about 10 meters from the front) of the locmotive.
Minor injuries were sustained as a result of this collision and alcohol is not believed to be a factor.