National Film Board visits Foremost
Posted on February 24, 2015 by 40 Mile Commentator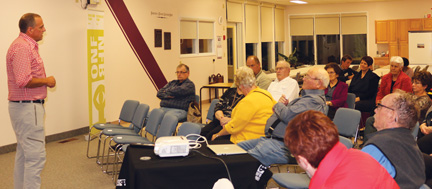 Scott Parker, associate producer to the National Film Board's The Grasslands Project, talks to Foremost area residents about the project at an information-gathering session last week.
By Jamie Rieger
Representatives from the National Film Board were in Foremost on Feb. 18 to talk to local people about story ideas for their Grasslands Project, a series of short documentaries focused on the people and issues in southern Alberta and Saskatchewan.
David Christensen, executive producer at the National Film Board's Northwest Centre in Edmonton, along with Scott Parker, associate producer; and Jasmine Pullakatt, production coordinator provided those in attendance with an overview of the Grasslands Project, as well as showed a couple short documentary films from previous projects to give the people a general idea of what they were looking for.
Christensen and Parker first developed the project in September, 2014 and have just finished visiting communities from Standoff, Magrath, and Coutts to Foremost and then, Eastend, Radville, and Wood Mountain in southern Saskatchewan to gather story ideas.
"We are looking for interesting stories that reflect this part of the country," said Christensen. "What kind of stories can be told? We are not looking for a historical film, but looking at things we can document now."
Parker said the Grasslands Project evolved from a previous project they did in Nunavut.
"This grew out of that project which was really rewarding because people would tell their own stories. We want to see the story unfold, the events as they happen," said Parker.
One film they showed in Foremost was of a Nunavut resident building a sled for a little girl, then going sledding down a nearby hill.
"While we were on the hill, there were hunters making sure the polar bears stayed away from the children," said Parker.
Christensen also gave an interesting overview of the National Film Board of Canada.
"The National Film Board has been around over 75 years, since 1939, and formed as a propaganda unit for the government to get people behind the war effort," said Christensen. "They had to convince people that this is a great country. So, between 1939-46, over 500 films were made across Canada to show Canada to other Canadians."
By the mid 1940s, more than half a million Canadians a week were watching to see how their fellow Canadians were living.
"The NFB was a public producer right from the get-go. The public element is very important because it is funded by the people," said Christensen, adding the NFB is the only public producer in the world.
"The National Film Board does not want to compete with the private sector. We want to work in sectors where the private sector can't or won't work. The private sector is not interested in Nunavut, but those stories need to be told," he added.
To date, the NFB has made close to 15,000 films, 3,000-4,000 of which are available for online viewing.
The people who attended the session gave them a number of different story ideas, from the Red Coat Rail to how the Species at Risk Act is impacting the livelihoods of rural residents and the airspace at Foremost airport for unmanned aerial vehicle testing.
Christensen told the group that they would have updates on the project close to the end of March.
To keep up-to-date, visit http://www.thegrasslandsproject.tumblr.com or check out their page on Facebook.