Anti-bullying fought across Canada through Pink Shirt Day
Posted on March 3, 2015 by 40 Mile Commentator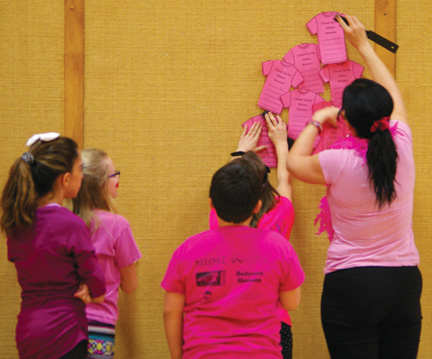 Margaret Wooding School students wrote down why they stand up to bullying on paper T-shirts they hung on the gymnasium wall.
By Carlie Connolly
A number of anti-bullying activities occurred throughout schools in the Prairie Rose School Division, along with schools across Canada with students wearing pink t-shirts to fight bullying together.
Pink Shirt Day began in Nova Scotia in 2007 by two high school students ready to take a stance. One of their fellow students was bullied for wearing a pink t-shirt, sparking them to take action. They began wearing pink t-shirts to stand up for bullying and distributed them to other students to wear. Their word has spread across Canada, with many now taking a stance against bullying,
"It's to empower bystanders, so to remind people the importance of standing up for each other and that collectively we can make a difference," said Jami Sawatzky, project coordinator for DREAMS.
DREAMS serves five schools within Redcliff, including I.F Cox, Parkside, Margaret Wooding and Redcliff Mennonite alternative program, with activities facilitated throughout the day,
"It's all about empowering the students and reminding them that they're not alone," she said.
At Margaret Wooding, they had a student led team go into each of the classrooms to present on the history of Pink Shirt day, and on the power of bystanders. In the last three weeks they made a video that emphasized the same, showing students facts and the impact that bystanders have in the different situations. Students wrote down on a paper, pink t-shirt why they stand up for bullying and posted them on the wall in the gym to create a wall of pink t- shirts. They also made heart rings on their lunch break, contributing to the day long events to raise awareness for bullying.
Sawatzky travelled to the different schools to give presentations about the important day contributing to what has now become an annual event.
DREAMS provides mental health and wellness services and supports within Redcliff, with Pink Shirt Day being an important day for them to focus on within the community.
Another event planned for the day was a 'chain of kindness' display at I.F Cox school, filled with positive messages to be attached to the chain link fence to show their support.
With bullying happening all the time, kids are encouraged to speak up about the issue by either asking for help from friend or talking to loved ones.