Wind, rain, snow rip through Bow Island area
Posted on March 3, 2015 by 40 Mile Commentator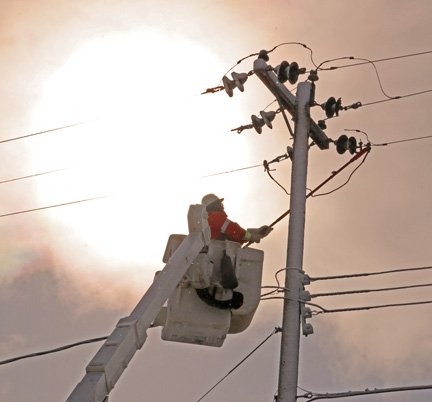 Fortis employee, Gil DeLaurier does a repair on a power line in Bow Island last Wednesday after a storm with strong winds ripped through the community the night before.
By Jamie Rieger
If Bow Island residents were not woken up in the wee hours of Wed., Feb. 25 by the strong wind, they awoke in the morning to lots of ice and snow blanketing their vehicles and yards.
A weather system that started as rain, then turning to snow began on Tuesday evening, but approximately 3:00 a.m. on Wednesday morning winds clocked at more than 90 km/hr tore through the area, causing several transformers on power lines to blow. Some residents reported getting woken up by the bright lights that flashed as the transformers blew.
Fortis employee, Gil DeLaurier was one of the workers repairing the damage and said that by midday Wednesday they were pretty much caught up with the work.
Travel on Bow Island area roads were also in terrible shape on Wednesday morning, with lots of ice slowing down motorists or keeping them off the roads altogether.