Family physician setting up shop in Redcliff
Posted on March 10, 2015 by 40 Mile Commentator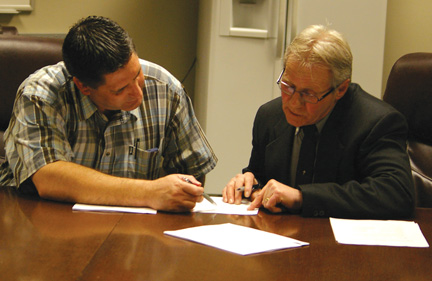 Dr. Helgaard van der Merwe and Redcliff mayor Ernie Reimer review and sign the agreement between the doctor and the Town. Dr. van der Merwe will open his Redcliff practice on Apr. 1.
By Carlie Connolly
The much awaited time for a new doctor in the town of Redcliff is finally over.
Dr. Helgaard van der Merwe, who has been working at Medicine Hat's HealthWORX since August of 2013, will be moving to Redcliff and beginning his practice on April 1 and has been planning this for quite some time now.
"Today is a big opportunity and a big day for me signing this agreement. It's something that I've been working hard on and looking forward to, so I'm very glad its now official," he said.
For Van der Merwe, this position has been in his mind for six months, after he realized the large number of patients residing in Redcliff were travelling to see him at the Medicine Hat practice. He thought it would be a good idea to make the move to Redcliff to be closer to the patients, as there was a need in Redcliff to have a physician in town.
"It makes it easier and more accessible to patients from Redcliff.
All in all I think it's a good strategic move. I think it will make sense and that both communities will be appreciative of my relocation to Redcliff," he said.
A physician recruitment and retention committee was approved in 2014 by town council and has a few members including Redcliff Mayor, Ernie Reimer who is happy the town finally has a doctor.
"It's a nice fit for the citizens of Redcliff," he said.
Renovations to the new office, which is located at the corner of Second Street and Broadway Avenue in Redcliff are in the finishing stages. The staff has been hired and the electronic medical record system is expected to be in place soon. The clinic will open for a trial run on March 30 and 31 to correct any issues they may have before its official opening on April 1.
Van der Merwe said that he will be accepting as many patients as he can at this time.