Atom Rebels win provincials
Posted on March 17, 2015 by 40 Mile Commentator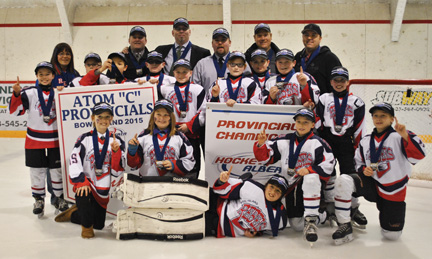 Bow Island Atom Rebels won the gold medal in the Atom C provincial championship, that took place in Bow Island over the weekend.
By Jamie Rieger
The hometown Bow Island Atom C Rebels are gold medal winners after beating out the Marwayne Sled Dogs 4-3 in an exciting finale to the provincial championship, held in Bow Island this weekend.
Both teams came to win and it showed in the speed of the game. With only a few penalties throughout the three periods, the teams played neck-to-neck for much of the game. A Marwayne penalty in the third period proved to be the defining factor as the Rebels scored shortly thereafter, securing the win. Not even pulling their goalie in the last minute, would be enough to inch past the Rebels.
"Our team was just so driven. They willed themselves to win this one," said Lynn Degenstein, Rebels  head coach. "In our last game against Marwayne, they were ahead 3-0, then we went on to beat them 4-3. So, they were very similar games."
Gerry Schnell, Master of Ceremonies and part of the host committee said that other than a few lop-sided games, most were fast-paced, close matches.
"The tournament went very well. There were a lot of really good, tightly played games," said Schnell. "The fans and coaches have been spectacular. The crowd was really cheering on the players and that was the kind of stuff we talked about ahead of time. Plus, there were no difficulties, whatsoever."
Players, coaches, and spectators were silently rooting for one Carstairs player who was unable to compete in the tournament.
Ethan Parks was in a motor vehicle collision on the Wednesday evening prior to the tournament and was unable to participate with his teammates.
In a show of unity, members of his team carried in his #5 jersey during the opening ceremony on Friday evening, but has since been released from hospital.
"He was supposed to be released from the hospital (Saturday). He had to get 43 staples in his head, but he will be all right," said parent, Georgina Swanby. "It probably set the team back a bit not having Ethan here. We are a small team and we were missing a family member."
Pictures and videos throughout the weekend were sent to Ethan so he could keep up on the progress of his team.
Degenstein said the host committee and all of the supporters were amazing.
"The host committee did an amazing job of getting it altogether and we really have to thank all of our supporters who came out and cheered us on." he said.
Annie Orton, Hockey Alberta representative, was happy the weather was pleasant over the weekend.
"This is my second opportunity to be in Bow Island. The last time was in 2002 and it was -38 outside. So, thank you Bow Island for turning up the heat," said Orton during the opening ceremony on Friday.