Foodgrains project grows record crop, raises record funds
Posted on March 17, 2015 by 40 Mile Commentator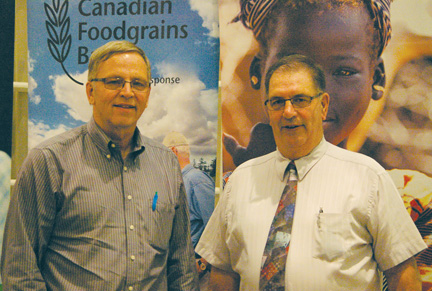 Andre Visser (lefft) and Charlie Redpath stand in front of the Canadian Foodgrains Bank poster at the annual banquet, held on March 13 at Chinook Village in Medicine Hat.
By Carlie Connolly
On Mar. 13, the Chinook Village in Medicine Hat was packed with many in attendance for the Canadian Foodgrains banquet, which raised $17,040.
The Foodgrains bank's goal is to simply feed the hungry, and its set up to work in third world countries where there is a need.
Beginning as a charity, it has been going strong for 35 years, starting out as the Mennonite Central Committee in Manitoba and growing from there with 15 church organizations that work in Canada and third world countries.
There are 250 growing projects across Canada and each project has lots of volunteers. Andre Visscher, Alberta coordinator for the Foodgrains bank said that the goal for next year is to have 4,500 acres of crop in the province and raise over $2.8 million.
Charlie Redpath has been working with the Foodgrains bank for over 15 years and said that this year's banquet was the biggest turnout yet with the most raised to go towards the Foodgrains bank.
The Foodgrains bank ensures that people are getting not only food but also food they will actually eat.
"If a country doesn't eat corn, they're not going to send corn over. They are very concerned that they get the food to the people that the people will use," he said.
In the mid 1990's, Redpath and some others travelled to Ethiopia on food study tour and went to the market to see how people really live. He told the emotional story of a woman he saw one her hands and knees desperately searching for food under the table. This is what sparked Redpath's desire to start Medicine Hat's District Grow Project.
With the First Assembly of God's Church in Medicine Hat buying the quarter section of land, the Foodgrains bank seeds 70 acres each year, and Redpath said that this past year was a strong one.
"We had the best harvest we've ever had. We had just over 53 bushels per acre of wheat which is kind of abnormal," he said.
In just 2014, $19,000 was raised off the land, with the banquet raising $12,000. Over the 15 years, over $400,000 was raised. Redpath said that the goal for next year is to continue to grow the attendance even more and raise as much as they can with the continued 4:1 match to the donations from the government.
Among the many important figures at the banquet were Marion and Randy Ausmus who are farmers in Leader, Saskatchewan and part of the Foodgrains bank. They gave a talk about their recent experience in Ethiopia.
They said that with their still being a lot of poverty and hunger, things have improved drastically in the last four years.
When they were there, harvest was just finishing up, so at this time there is plenty of food to go around.
"They did have a pretty good harvest so I think they're going to have an okay year," said Mr. Ausmus.
They have been with the food bank for around 10 years and saw it as a great way to help others.
"It has a lot to do with that its farmers helping other farmers," said Mrs. Ausmus.
"We have such excessive food in this country especially in the rural parts of it and so it just seems like a good fit for us. I just think everyone needs a right to good nutrition each day," said Mr. Ausumus.
Some of the other speakers in attendance included Ron Robinson, growers in Bow Island and Rosemary and others who have contributed to the Foodgrains Bank. There was also an auction for two items.
"With this supper, it gives people that aren't involved directly with the project a chance to donate money," said Redpath.