NY show tunes highlighted at annual skating carnival
Posted on March 24, 2015 by 40 Mile Commentator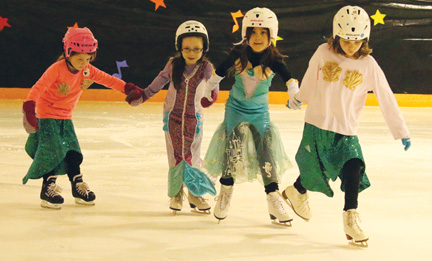 These young CanSkate girls skate to "Under the Sea", from the movie The Little Mermaid at the annual Bow Island Skating Carnival, held on Saturday evening.
By Jamie Rieger
Bow Island figure skaters performed to different tunes with a Musical Rewind theme at their annual skating carnival, held on Saturday evening.
With the senior skaters opening the show to "There's No Business Like Show Business", the packed house was delighted with all kinds of musical performances by skaters of all ages and skill levels.
The young Canskate members skated to "Good Morning (Singing in the Rain, which was followed by a Lion King medley by the KidSkaters.
Katie Thomas performed a solo to the Footloose theme song in her last appearance at the Bow island Skating carnival. Thomas started skating when she was just four years old and most recently, won a gold medal at the South Region Open, held in Medicine Hat in January.
The Bow Island Midget hockey team were the guest skaters for the event and had the crowd in stitches and looked like they were having a lot of fun when they danced the Can-Can in skirts.
Naomi Van Roessel then beautifully performed a solo of "I Feel Pretty", a show tune from Westside Story.
More performances by all of the skaters continued throughout the evening, including "9 to 5" by Karli Gatz, who will also be leaving the club. Like Thomas, she started skating at age four and has been with the club for 14 years and has also skated with the Cypress School of Skating.
The evening ended with flowers for many of the skaters and coaches.