Cypress County donates to MH food bank for refrigeration truck
Posted on March 31, 2015 by 40 Mile Commentator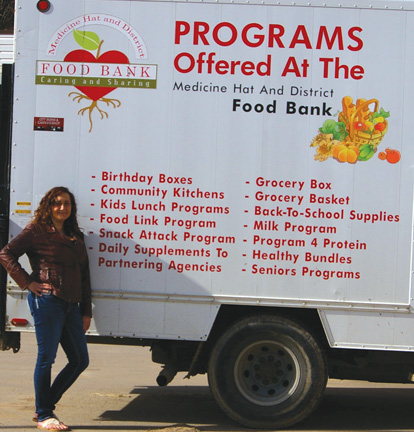 Celina Simmonds, co-executive director of the Medicine Hat and District Food Bank, is pleased with the generosity of Cypress County in their donation of $35,000 that will go towards the purchase of a new refrigeration truck.
By Carlie Connolly
On March 24 at the Cypress County meeting, councilor, Dan Hamilton brought forth to council the need for a new refrigeration truck for the Medicine Hat and District Food Bank Association. He and a few other had attended a family services meeting the day before the council meeting where they heard from presenters about getting a new truck.
In order to ensure that they are keeping up with current regulations, the Food Bank is making an update to get a new refrigeration truck to move things like dairy.
The cost of the truck is $39,000 and Cypress County has generously given $35,000 towards the purchase.
"I think they are doing a very good job in helping out people in our area too. I think it's a very good thing," said Dan Hamilton.
The truck they have now is a 1991 model, and they would be getting a 2007, which Celina Symmonds, the co-executive director of the Food Bank said.
"We are so thankful that Cypress County has come forward to help us with this. It's a great partnership over the years," she said.
Even though the majority of their clients come from Medicine Hat, the truck will help for those in Cypress County as they too have clients. With their operational costs of $460,000, which is all funded by private donors, the fixed cost would be the same if not more to operate in a rural area.
As mentioned in the letter of request, the Food Bank served at least 85 households last year in the County and they know that the truck would be of beneficial use for them too.
They offer a variety of programs to help out others within the community, and by having this upgraded truck, it will help in their every day runs, as it's how they pick up their food for people they are feeding at the Food Bank.
One of the programs they offer is the Emergency Food Program, where anyone in need of food can come to the Medicine Hat and District Food Bank and they will offer a grocery basket to help them get through their emergency, whatever the case may be.
They also have a Healthy Bundles Program, where they offer extra milk, meat and dairy for mothers who are pregnant or have children under the age of one. They will help them out too with diapers and formula that they also offer.
The Brown Bag Lunch Program is also a popular program, offered in schools, where they provide a brown bag lunch for those kids who don't have lunch in school.