Two one-act plays at Foremost School
Posted on March 31, 2015 by 40 Mile Commentator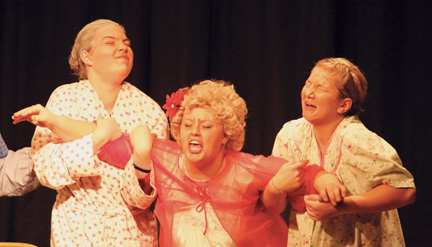 Libby (played by Julie Walsh) and Marge (Raegen Ully) hold back Stella (Kristin Van Arragon) when whey plan their escape from the nursing home in the second of two one-act plays performed by Foremost students on Friday and Saturday.
By Jamie Rieger
Family and friends of Foremost School students were treated to two one-act comedies on Friday and Saturday evening. And, the students were excited to perform in front of a full-house in the school gymnasium.
"They have had a lot of fun putting this together," said director and teacher, Kerry Walsh of the students who have been working on their performances for a couple of months.
The first play, "But Listen!" was performed by junior high students and was about a young man (Nick, played by Trevor Niggli) who makes a threatening phone call to the local courthouse. The young lady answering the phone, Helen (Played by Stephanie Mueller), did everything by the book, including putting Nick on hold and transferring his call….repeatedly.
After much frustration, at least for Nick, it was break time for Helen and co-worker, Kim took over and was able to calmly diffuse the situation.
The second play, "The Great Nursing Home Escape", performed by high school students saw a new resident (retired military man, Albert, played by Codi Payne) to the local nursing home, who encourages the residents to add a bit of excitement to their lives.
So, the group decides to escape to go watch a baseball game. Through a series of misadventures, the renegades manage somehow to escape, and are caught. They give security guard, Simon (played by Trevor Niggli) a thorough going-over and use his unconscientious body as an anchor as they escape through the window.
Both plays had the audience in roars of laughter and the young people all put on excellent, convincing performances.
The event was the first theatrical performance in a couple years for Foremost School students.
"A few years ago, Jay Diemert was doing full-scale plays at the community hall. Then, two years ago, we had an Arts event and a one-act play. Last year, we did not have one at all," said Walsh. "At a meeting in December, we asked people about doing another play and we got an excellent response."
Based on the response from the audience, the school should most definitely make it an annual event once again.