Fire near Suffield burns 600 acres
Posted on April 7, 2015 by 40 Mile Commentator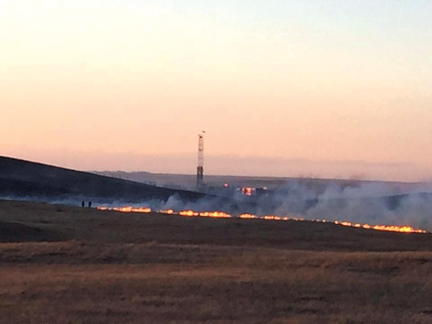 PHOTO COURTESY OF CYPRESS COUNTY - A grass fire near Suffield, and primarily on CFB Suffield property, burned 600 acres of prairie and destroyed some equipment at a nearby service rig on March 31.
By Jamie Rieger
Human activity is believed to be the cause of a grass fire at Suffield on March 31 that charred approximately 600 acres of prairie, mostly on CFB Suffield property.
"It was not wide, but it was about four miles long" said Cypress County fire chief, Dennis Mann, adding that the winds were blowing at 50-70 km/hour at the time of the blaze, that was being battled by fire crews from CFB Suffield Fire, Box Springs fire department, Medicine Hat fire department, and CFB Suffield's Range Control.
Mann said that there are only two places in his jurisdiction where they are not permitted to break a fence to fight a fire – at the Canada/United States border and at CFB Suffield.
"We are not allowed to break through the fence and can only go in if the base asks us to and here, they did," said Mann.
Another challenge for the firefighters was the soft ground and the heavy trucks were getting stuck as they tried to battle the flames.
Equipment owned by Savanna Drilling at a nearby service rig were lost in the fire.
The fire is believed to have started along Township Road 150, parallel to the south boundary of the base.
Mann and Cypress County deputy fire chief walked along the edge, but were unable to determine an exact cause.
"It was certainly human made, but there is no indication it was caused by smoking," he said.
The fire erupted just after 5:00 p.m.  on March 31 and was extinguished in approximately five hours, but some hot spots were still being put out the following day.
On Apr. 1, Cypress County issued a fire advisory because of the tinder dry conditions.
"That means that a fire ban is on the radar if things stay dry," said Mann.