Lots of kids participate in Easter egg hunt
Posted on April 7, 2015 by 40 Mile Commentator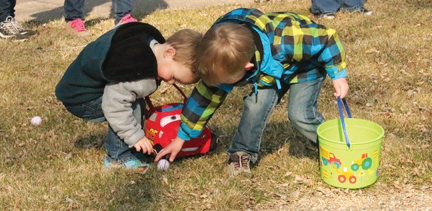 These two young boys had fun going for the same egg at Bow Island's Easter egg hunt, held last Saturday morning at Centennial Park.
By Jamie Rieger
If the participation numbers are any indication that Saturday's Easter Egg Hunt at Centennial Park was a huge success, then organizers may want to think about making it an annual event.
Approximately 92 children registered for the event and came well-prepared with the Easter baskets, some even wore face paint, masks, and bunny ears to show their enthusiasm.
Bow Island councilor, Marj Moncrieff and her husband, David, were on vacation last spring when they saw that a community was hosting an Easter egg hunt and thought it would be a good thing to do for Bow Island's young people.
"We did some Google searches about them and thought it was a great idea," said Marj, adding that she and fellow councilor, Nan MacLean went out and purchased 1,000 plastic eggs to hold goodies for the children.
While most of the plastic eggs contained sweet treats, one egg in each of three age-designated hunting grounds, contained a note that the person opening that egg had won a new bike. (The Bow Island Elks Club and Robin Knibbs donated the bicycles.)
The three winners of new bicycles are Elizabeth Stappler, Michaela Wood, and Graeme Hofmann.
There were also raffles for chocolate bunnies, candy, baskets, and colouring books, and the older folks who were registered for the event were not left out.
Names were drawn for gift certificates for dinners, oil changes, and manicures. There was also a draw for a swimming pass and a family pass to the local library.
Moncrieff said they had planned for 100 kids and 92 registered for the event.
"We planned for a100, but really were not sure how many would come out. We are really pleased and really pleased with the community support," she said.