Municipalities train for widespread emergencies
Posted on April 7, 2015 by 40 Mile Commentator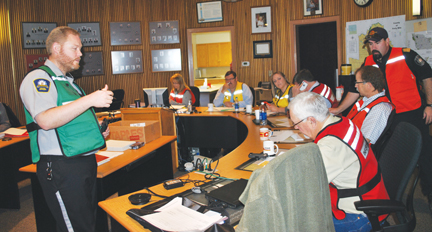 Stewart Payne (in green vest), director of emergency preparedness for the County of Forty Mile, provides direction at the county's command centre during a regional emergency management training exercise, held along with the Village of Foremost and Town of Bow Island last week.
By Jamie Rieger
If a disaster strikes, it may not only affect the residents of one community, but several surrounding municipalities, as well. Some could impact entire regions.
To prepare for those extreme scenarios, the County of Forty Mile, Town of Bow Island, and Village of Foremost have been working on a regional emergency planning strategy.
Last Wednesday, an emergency management training session was held amongst the three municipalities, with representatives from the Alberta Emergency Management Agency on-site to provide guidance.
Following a debriefing, the group was given a disaster scenario that they had to work through, as a community and with their neighbouring municipalities. The situation involved a winter snow storm, a scene that was modified from an actual event from last year.
With temperatures ranging from a high of -5C to a low of -25C and a second major storm in the forecast, each group had to work through their emergency preparedness operations that included the emergency response crews, public works, communications, volunteers, and a host of other elements that would be required in a real emergency situation.
Initially, the 3 groups had to work as individual units, as multi-municipal coordination was not yet required.
With two major snow storms occurring or on the horizon, AEMA representative Mark Murphy told the group that one of the first things that can be done is to get the Environment Canada information onto their websites and to also, ensure routes to the hospital were cleared of snow  for emergency response vehicles.
One of the situations being handled by the county was a bus roll-over a few kilometers north of Foremost with potential multiple injuries.
As the three municipalities worked through their mock disasters, further situations unfolded, some  within the individual community, and others that requires coordinated communications with the other two.
With command centres in place, receptions centres being established, traffic being rerouted, and emergency crews responding to various scenes, each group and each member of each group focused on his or her responsibility. Update meetings were held frequently, as were structural reports so operations could be re-prioritized if necessary with the reminder that the Number One priority is always in saving lives.
Foremost mayor, Ken Kultgen said that while the 135 cm of snow was forecast, it could easily turn into 200 cm and they needed to be prepared for the worst and ensure there would be additional people on stand-by to help out.
After the passing of the storm and all of the situations that unfolded, each participant completed a report, and a wrap-up debriefing ended the day's training.
"That was quite enlightening. We saw how well-oiled of a machine our emergency response is and who well everybody functioned together," said county reeve, Bryne Lengyel. "I was very pleased with how all three municipalities worked together. It was handled very professionally."
Bow Island mayor Gord Reynolds said that the training gave them an opportunity to test the emergency response policies the town currently has in place and and look at what works and where there may be room for improvement.
"This was well-organized by the consultant and was fairly realistic. A winter storm scenario worked well," said Reynolds.