Secure those loads to the landfill
Posted on April 14, 2015 by 40 Mile Commentator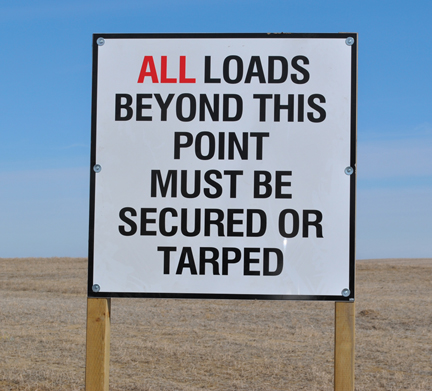 New signs have been posted on roads heading to the North 40 Mile landfill, advising people to tarp or secure their debris.
By Jamie Rieger
With the warmer weather, comes lots of yard work and spring cleaning. Along with that comes, hauling yard debris and discarded household items to the local landfill.
If the load in the back of the truck is not properly secured, it could mean bags of garbage littering ditches and fields along the route to the dump.
North Forty Mile Regional Waste Management Services has posted signage reminding people that their loads must be tarped if they are hauling to the landfill.
"We have replaced the signage because the old one was getting hard to read, but people need to be aware that their loads need to be tarped. The ditches look horrible because of people not securing their loads," said county councilor, Chantel Timmons, who sits on the North Forty Mile Regional Waste Management Commission.
Also, the amount of branches, and in some cases, entire trees, plus scrap wood from construction is quickly filling the wood pile area at the landfill, and Timmons said people who reside outside of Bow Island are being encouraged to burn their wood debris at their properties, rather than hauling it in to the dump.
"If people have access to an area on their property where they can burn, we ask that they get the proper fire permit and burn it there," said Timmons. "The fire permits are free and it would cut down on the amount of wood coming into the landfill."
Residents wanting more information on county fire permits, which are required in the county from April 1 to Oct. 31, can contact the County of Forty Mile office at 403-867-3530.