Wind causes power outage to Bow Island customers
Posted on April 14, 2015 by 40 Mile Commentator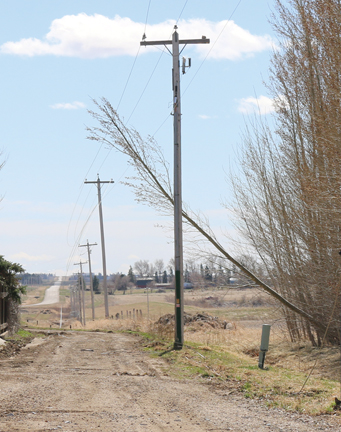 Strong winds caused this tree to tumble onto a power line in Bow Island on Saturday, causing a community-wide power outage.
By Jamie Rieger
Winds gusting to 100 km/hour on Saturday caused a tree to fall on a powerline in southwest Bow Island, causing a portion of the town to lose electricity about noon. The reminder of the community lost power approximately one hour later.
In total, 919 electrical customers and more than 500 county customers lost service.
Some customers had their power restored by 3:30 p.m., with the rest getting electrical service back two hours later.
The wind also caused $2,700 damage to the roof of the arena.