Hauck wins Redcliff Citizen of the Year award
Posted on April 21, 2015 by 40 Mile Commentator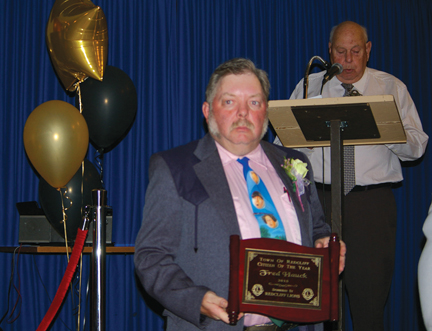 Redcliff's Fred Hauck has been recognized for all of his volunteer work in the community with the Citizen of the Year award.
By Carlie Connolly
On April 17, the Redcliff legion saw a full house as it hosted an awards recognition night to recognize volunteers and the citizen of the year. This year, there were more than 20 volunteers of the year from various organizations, with Fred Hauck as citizen of the year.
Sandy Tilleman who greeted people as they came into the Legion, said that she has enjoyed being on the decorating committee tremendously.
She has also been nominated as one of the volunteers of the year for her work for the Redcliff Lionettes, which she has been a part of for around 12 years.
Tilleman was also citizen of the year in 1990, and this is her second time being nominated again for volunteer of the year.
"I just haven't stopped. I enjoy it," she said about continually volunteering.
With the dinner beginning at 6:30 p.m., everyone enjoyed a buffet style meal, and sat at their various tables, enjoying in each other's company.
The evening began with citizen of the year awards' mother, Pat Hauck singing O' Canada. After the dinner MP, LaVar Payne and Mayor of Redcliff, Ernie Reimer gave speeches, which touched on the great work of volunteers within the community.
The volunteers of the year included: Susanne White of Friends of the Redcliff Library, Jorja Graham (Youth) and Lana Pahl of Girl Guides of Canada, Reita Wilson of Gordon Memorial United Church, Destiny Currence, Karen Jaeger and Sandra Smith of Isabel F. Cox School Council, the Benz family of Redcliff Block Parents, all volunteers for Redcliff Citizens on Patrol, Nellie Simpson and Marvin McNeil of Redcliff Curling Club, Barry Cole of Redcliff Legion Branch #6, Ginny MacKay of Redcliff Legion Ladies Auxiliary, Sandy Tilleman of the Redcliff Lionettes, Kim Donais of the Redcliff Lions Club, Gordon Harth of the Redcliff Public Library, Rob Ewert of the Redcliff Scouts, Edna Martin of the Redcliff Scout and Guide Building Association, Garry Moore and Mel Oerlemans of the Redcliff Seniors Society, Shayna Willman (Youth), Barb Dunham and Karen Dunham of the Redcliff Skating Club and Taryn Yaroszko, Sue Hope and Carla Spaminto of Tiny Tot Playroom.
The volunteer celebration committee involved Pat Hauck, Brian Lowery, Vic Lutz, Cindy Murray, Jonelle Gladue and Sandy Tilleman.