Prentice reconsiders charitable donation tax credit reduction
Posted on April 21, 2015 by 40 Mile Commentator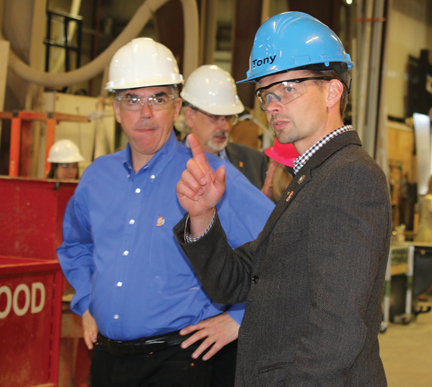 TruCo Structures president, Tony Isaac (right) gives PC leader Jim Prentice a tour of the facility last week. One of Isaac's concerns with the provincial budget was plans to reduce the charitable donation tax credit from 21 to 12.75 percent. On Tues., Apr. 21, Prentice announced that the PC government will be leaving the tax credit rate at 21 percent.
By Jamie Rieger
After hearing concerns from the public while campaigning through the province, Progressive Conservative leader, Jim Prentice announced on Apr. 21 that he has reconsidered reducing the charitable donation tax credit and vows that a PC government will maintain the previous rate.
"I've said during this campaign that leadership is about difficult and sometimes unpopular choices," said Prentice. "But hearing from Albertans during this campaign, it's become clear that this choice was more than simply unpopular. Rather, Albertans have told me it was seen as contrary to our values as Albertans – values of generosity, community, and looking out for one another. These are the leaders who manage your charitable dollars to deliver critical services and cultural excellence. These are the people we turn to, to help build and support our communities and we cannot tolerate even the impression that we might put that in jeopardy."
The reduction in the charitable donation tax credit would have saved the province $90 million a year.