Cypress-Medicine Hat candidates square off at forum
Posted on April 28, 2015 by 40 Mile Commentator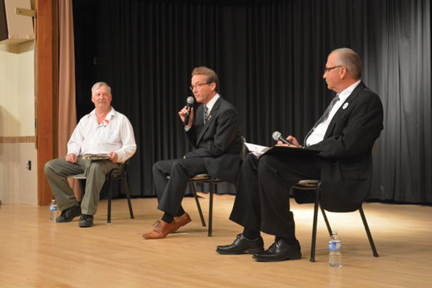 PHOTO BY TIM KALINOWSKI - Liberal candidate, Eric Musekamp (left) and PC candidate, Bob Olson listen as Wildrose candidate, Drew Barnes talks about his party's agenda during the Cypress-Medicine Hat candidate forum, held at the Medicine Hat Public Library on Sunday.
By Tim Kalinowski
Southern Alberta Newspapers
Cypress-Medicine Hat candidates Eric Musekamp, Drew Barnes and Bob Olson squared off over issues of policy at the Medicine Hat Public Library candidates forum Sunday afternoon. In the extremely polite debate all three worked hard to stay on message and drive home their key points. While Liberal candidate Eric Musekamp seemed to relish his role as underdog and came out hurling some zingers, Barnes and Olson mostly played it safe and stuck to the party line in their answers.
There were, however, a few interesting exchanges with Musekamp providing most of the fireworks and drawing applause from the audience present.
In one particular exchange over the PC government's decision not to raise corporate taxes Musekamp got in a solid hit.
"They claim that 8,900 jobs are going to be lost for every percentage point (of new corporate taxes)," said Musekamp. "There isn't necessarily a direct correlation. We do need to remember the corporations we are talking about taxing are very profitable… Alberta is still the cheapest tax regime even with a modest increase. Those few guys that will leave over a tiny little increase like that. Well, I would say 'see ya.'"
Barnes also got in good jab on the question, restating that his party is the only one which is committed to not raising taxes on anyone.
"We absolutely believe, and we absolutely know, Alberta has a spending problem not a revenue problem," said Barnes.
The question of lack of flood mitigation money for Medicine Hat also drew a few interesting exchanges.
"In the Prentice government they have always said that outstanding claims will be cleaned up," said Olson. "It's not only Medicine Hat that is behind on these. It takes a long time for all of these mitigations and it doesn't happen over night. And the Prentice team is working on that and it will be cleared up."
See Flood, Page A2
Musekamp wasn't buying it though.
"Medicine Hat is definitely worthy of flood mitigation. Place your vote where you think it's going to get that. These guys certainly aren't going to do it," said Musekamp pointing toward Olson and Barnes.
Barnes also got some traction on the question.
"We need a government that cares for the taxpayer and the citizen to put the proper flood planning, flood mitigation, flood warning in place," said Barnes.
The most interesting exchange during the forum came when each candidate was asked to differentiate his party from the one closest to his in the political spectrum: PC and Wildrose on the centre right. Liberal and NDP on the centre left.
Musekamp took a shot at both sides of the political divide in the province.
"If I were a Wildroser, I'd have to say we are two peas in pod with the PCs. If you pick a PC or a Wildrose you are going to get the same thing. Between the Liberals and the NDP there are a lot of similarities in our policies. We do care about the little guy and social services. There are a lot of overlapping areas there. But we Liberals are more middle of the road."
Barnes said there is only one party currently on the centre right of the political divide in the province, and that is the Wildrose.
"Clearly the Wildrose is the only financial conservative party."
Olson took aim at both the Liberals and the Wildrose on the question. But delivered his best shot in the debate at the expense of the Wildrose.
"One party in this election is going to tell you they have plans to balance the budget without raising the taxes. Making us (take) deep cuts or delaying new schools, hospitals and roads. But the fact is the numbers just don't add up. Their approach will push Alberta into recession, push unemployment skyward, delay vitally needed new schools and hospitals, and take on billions of new debt that future generations will have to repay."
NDP candidate Bev Waege was conspicuous for her absence during the forum on Sunday.