Waege makes rounds in constituency in final week of campaigning
Posted on April 28, 2015 by 40 Mile Commentator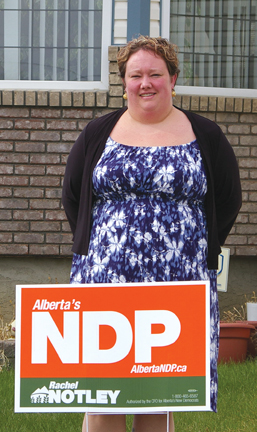 Cypress-Medicine Hat NDP candidate, Bev Waege has been out and about in the riding, meeting potential voters in the final week of campaigning before the May 5 provincial election.
By Jamie Rieger
Bev Waege, NDP candidate for Cypress-Medicine Hat stopped by the Commentator office on Monday afternoon as she hit the campaign trail in the final week leading up to the May 5 election.
Waege, who has had a relatively quiet campaign thus far, has visited with voters in Redcliff, Schuler, Foremost, and Bow Island in her push support in the constituency.
When asked what made her decide to run for the NDP , Waege said, "I have been sitting on it since the last election and the people have told me they want to see change."
Waege, who has worked in the grocery retail business for the past 15 years, the past seven being a union shop steward, Waege said the NDP is "more for the working people like me".
One of her main concerns is the wait times to see a doctor.
"It can take four to five years to get a family doctor and that is not acceptable," said Waege, who did not offer any solutions for how the issue could be fixed.
She also said she was in support of the NDP Party's plan to raise the corporate tax rate if elected.