Barnes named winner for Cypress-Medicine Hat
Posted on May 5, 2015 by 40 Mile Commentator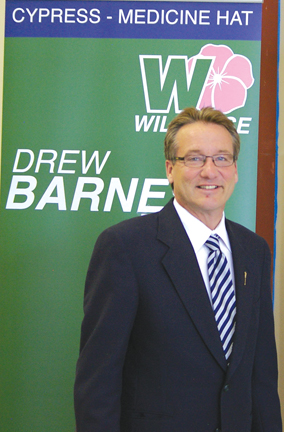 Drew Barnes will be at the helm of the Cypress-Medicine Hat riding after taking an early and commanding lead as the poll results started coming in.
With the results still coming in on Tuesday evening, Drew Barnes has been declared the leader of the Cypress-Medicine Hat riding.
Barnes took an early lead in the race for the leadership of the Cypress-Medicine Hat riding and picked up steam as the results from the 86 polling stations started coming in.
Many people who had never cast a ballot in the past came out this time. A record number of younger voters came out to the Bow Island polling station and there was a steady stream of voters throughout the day.
As of 9:35 p.m., and with 56 of 86 polls reporting, Barnes (WR) was leading with 55.49% of the votes, Bob Olson (PC) with 20.79%, Bev Waege (NDP) with 20.55%, and Eric Musekamp (Liberal) with 3.17%.
NDP wins majority in Alberta
After 44 years of Progressive Conservative leadership, the dynasty is over as the New Democratic Party took an early commanding lead in the provincial election on Tuesday evening. As of 9:20 p.m., the NDP was leading in 54 seats and elected in 33.
The NDP swept all 198 seats in Edmonton and gained ground in Calgary and Lethbridge.
The Wildrose Party is slated to form the official Opposition.
Stay tuned as more information will be posted as further polls are reported.