MHC sees big turnout for Skills competition
Posted on May 5, 2015 by 40 Mile Commentator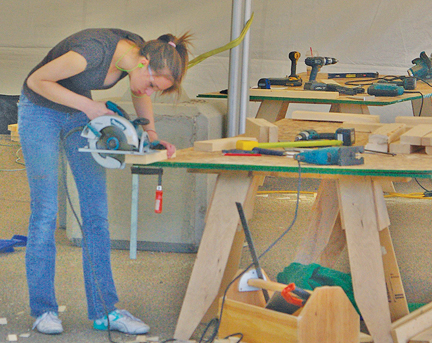 Kerstin Dart, from Medicine Hat High School, works on building a bench in the Carpentry category of the Southeast Alberta Regional Skills competition, held at the Medicine Hat College on Apr. 29.
By Carlie Connolly
On Apr. 29, Medicine Hat College was a busy place to be with students ready to learn and ready for a hands-on learning experience at the tenth annual South East Alberta Regional Skills Competition (SEASkills) and Trades and Technology Expo.
The South Eastern Partners for Youth Career Development (SEAPYCD) in conjunction with Medicine Hat College put on the day of activities with the two venues. The skills competition hosts 13 schools and 110 competitors, and they are participating in nine different competition areas, which include automotive, cabinet making, baking, culinary arts, carpentry, welding, hairstyling and TV video production.
The Trades and Technology Expo which also took place in the college, had exhibitors offering hands-on activities and information for students with activities from welding to masonry. The Expo sees students from Grade 7 all the way to 12, as well as the public, and so it's a great way to generate career awareness and see what opportunities are available in the trades and technology industry, along with what programs are offered at the college.
"This a career awareness activity. For the students competing, this is a way to demonstrate their skill. Most of these students are taking these skills onto their passion and their careers, so this is a really great way for them to build their experience. It's also an excellent opportunity for people to come down and look at the work that these students do and consider recruitment," said Rae- Leigh Ferris, project coordinator for the South Eastern Alberta Skills competition
She also said that many students are interested in apprenticing now and so this is an opportunity for them to go ahead and get started with that.