Memories of Redcliff Angling Association
Posted on May 10, 2016 by 40 Mile Commentator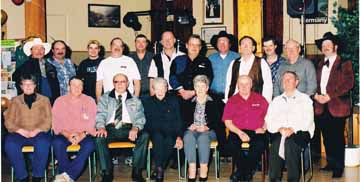 PHOTO SUBMITTED BY FRED HAUCK- Members of the Redcliff Angling Association gather for a group photo at their 50th anniversary celebration in 2003.
By Fred Hauck
With the weather becoming more and more seasonal thoughts turn to camping, fishing and hiking, or possibly just going for a walk. Fishing has always been popular in the area with the South Saskatchewan river here and with so many lakes close by.
Fishing has always been one of these activities that young and old alike can participate in. All you really need, besides a fishing rod and some tackle, is patience and good luck.
Back in the year 1953 a few Redcliff residents felt compelled to form a club dedicated solely to the sport of fishing, the Redcliff Angling Association. There were 100 members in its first year. There were weigh stations where your big fish could be recorded, and, once a year, three trophies were handed out to the best. In 1966 the trophies were increased to five. In 1967 a ladies' trophy was added.
The year 1978 saw the club's 25th anniversary. The Redcliff Angling Smoker, as it was called, was held at the Harmony Hall and 79 members attended.
In 1953 Doug Tonks was president, Howard O'Bear was vice president and Irene Tonks was secretary/treasurer. The membership price at the time was $1.00. At the club's height in 1969 there were 354 paid members.
The man who held the president's job for more years than any other was Ralph Pinder, 14 years. Ralph, his wife Vi and son Rick did a lot for the club, including holding various offices on the executive, helping look after the Cavan Lake recreation area, building parade floats and organizing the derbies.
Just think about how many pounds of fish Ralph smoked for the trophy night with very little complaining!
Other names that will be familiar to some are Walter Lawson, Bill Lutz, Eva Rutherford, Cliff Dacre, Bill and Pearl Pearson, Ed and Vi Bunkosky, Merv, Joyce and Kevin Peterson. Most of these names show up repeatedly on the executive. I took my own turn as president in 1996.
My own association with the Redcliff Angling Association began in the early 1990s. My dad Alfred became a member, and he and my mom volunteered at the Trophy Night one year. I started as a volunteer that night selling raffle tickets. From there I went to few meetings and eventually joined the club.
The club put on two derbies s a year at that time. One was a trout one put on during May Long Weekend at Blood Indian Park. The other was a pike one put on during the September Long Weekend at Grassy Lake. Always prior to this there was a Pike Derby at Lake Newell in May everyone wanted to go to and an ice-fishing derby in early February at Rattlesnake. The 2005 Ice-fishing Derby had $10,000 total in prizes and draws.