Hauck shares family war history
Posted on November 8, 2016 by 40 Mile Commentator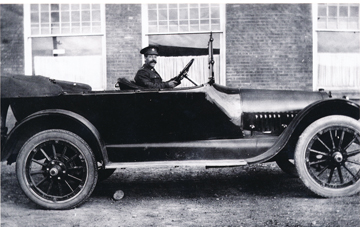 Photo submitted by Fred Hauck- Great War veteran Frank Edgar Lewis Pond died young and left many questions for his family unanswered about is wartime experiences. He did, however, leave many photographs in the Hauck family album.
Submitted by Fred Hauck
As another Remembrance Day comes around, I reflect back over the last year, and, as always, stop to think about those veterans who are no longer with us since last November 11. I also think of friends and family who served in both war time and peace time.
I got to know several of the old Redcliff Second World War veterans, and Korean War veterans, and even one local veteran who served in Vietnam. I never got the chance to know any First World War vets personally; all of whom are now long gone. And now the Second World War and Korean War veterans are dwindling too.
Another group of people who should never be forgotten are the victims of war. I knew a few people who emigrated from Europe to Canada in the 1950s. These people witnessed, first-hand, the horrors of war. Their lives in Canada were definitely a lot better than their lives overseas. These people never served, but fell prey to the enemy in their own countries, and this was rarely talked about.
My own family had many veterans in the First and Second World Wars. As a kid, my mom's father would talk freely about World War II, and his experiences; something he never did when my mom was young. He came home and tried to forget the war in those early years. But, later on, I think he felt it was important to educate us so the war would never be forgotten.
A year ago at Easter, I inherited my mom's family photograph collection. There were more First and Second World War photos than I'd ever seen before in one family album. I wish to share some of that story and a few photos with you this Remembrance Day.
My grandmother's father Frank Pond was a farmer  at Erskine, Alberta before the Great War. He signed up at Stettler, and later joined the 50th Battalion C.E.F. (Canadian Expeditionary Force) and headed overseas.
While in the war, he was Mustard gassed and forced to return to Canada to get treated at Sunnyside Hospital in Calgary, the World War I veterans' hospital. There he met my great grandmother Emma Crowe. They married, had a son named Bert and a daughter named Francis.
Frank died on Christmas Day in 1923 due to the lingering effects of the Mustard gas, and was later deemed a casualty of war by the Canadian government. My grandmother Francis was born on January 25, 1924. She never knew her dad.
In the family photo collection are a lot of photos of Frank. Some of them at the time of his wedding to my great grandmother, but a lot of them in his uniform. Some with other patients at Sunnyside Hospital. One of his funeral, one of his temporary white cross, and one of his permanent headstone.
I never knew a lot about him. My great grandmother, who died in 1981, was never questioned about this subject. And my grandmother had a bad stroke at the age of 39, and never could speak much. All we have are these photographs.
Frank's son Bert later joined the RCAF in the Second World War and my grandmother joined the WACS. She never left Canada during the war, but her first husband, Sgt. Ted Ogden who fought with the Manitoba Regiment, died on October 23, 1944. Lake Ogden in Manitoba is named after him. In the family's collection I have his Silver Cross, medals and some of his patches. I also have my great grandfather Frank's Silver Cross.
As I stare at the family's photo collection, some of the photos are just so interesting. Unfortunately, there is not writing on the backs of most of them and the men in the pictures with my great grandfather cannot be identified. I can, however, always identify my great grandfather.