Redcliff's MacPherson enjoying first year with Tigers
Posted on January 17, 2017 by 40 Mile Commentator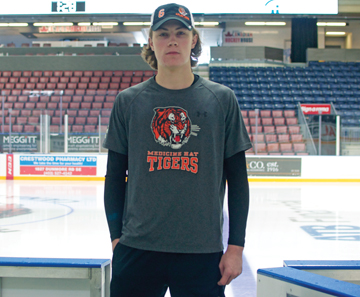 Photo by Justin Seward- First-year Medicine Hat Tigers defenceman Dylan MacPherson is learning the ropes in his first Western Hockey League campaign.
By Justin Seward
For Redcliff Minor Hockey alumnus Dylan MacPherson, to make the Medicine Hat Tigers backend out of training camp this season was a dream come true because it meant the chance to play for his hometown team in front of friends and family.
He credits his parents for his success this far in his career but said it can be nerve-wracking to play in front of them.
"My dad would always push me hard on the ice and my mom was the backbone," said MacPherson.
"She made sure everything was there with school and sports."
Some of MacPherson's  greatest memories in Redcliff  were playing in the old arena because it was best ice conditions he played on and winning a couple of tournaments.  He  played in Redcliff until peewee and then moved on to play in Medicine Hat with the bantam triple-A's, and continued on up into midget, before making the Tigers. He added it's good to be here on a winning team but knows he has to keep improving the important aspects in his game to succeed as a rookie.
"It's fun to get in the lineup when I can," said MacPherson.
"You just got to do the little things right and just keep pushing and working hard. You have to be able to see the ice and skate here, if not you're going to get rubbed out pretty quick."
His favourite player is Boston Bruins centre Patrice Bergeron because he is a two-way player, who contributes in the defensive zone and productive in the offensive zone. It's his style of play that MacPherson tries to model his game after.
He listens to the older players on the team because they know how to keep a balanced bench because they preach not getting down on themselves and staying at the same level through the whole game.
Tigers assistant coach Joe Frazer said MacPherson's greatest asset is his skating and is able to tight turn the opposition players in the defensive zone and has the ability to push the pace to join the rush offensively.
"I think he's adjusted very well throughout the first half," said Frazer.
"I think the biggest thing is his skating has allowed him to do that. Right now it's making sure your practices become your games. I think with Dylan, keep coming to work everyday and getting better.   It's  just getting confident enough to push the pace from the back end for us."
MacPherson currently had four assists in 23 games.