Fall Festival and parade
Posted on November 7, 2017 by 40 Mile Commentator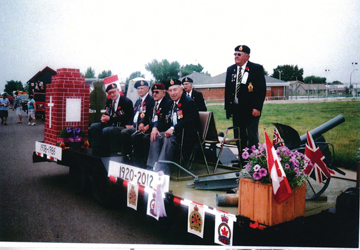 Submitted by Fred Hauck
A few weeks ago, The Town of Redcliff held the very first Fall Festival.
Overall, things went very well.
The highlight was a parade.
I was asked to judge the parade. The last parade was in July 2012 for Redcliff's 100th anniversary. There are parades every five years, 2017 would be the next one. The Fall Festival I'm told was to be another celebration for the town and totally separate from Redcliff Days in June and not a replacement in any way.
It is hoped that this may become an annual event.
Now back to the parade, there were 62 entries with a lot of time and effort put into floats by the many Medicine Hat and Redcliff organizations.
After the parade, the Legion Park would become the center for most of the day's festivities with other events around town like the Redcliff Museum and its rope making demo and the museum tours. A lot of fun was had by all and their was a great turn out.
Back in July 2012, I had written several historical articles for the town's 100th anniversary during the first half of that year.
There was a very nice parade which was televised on Channel 10. I had been put in charge of the Redcliff Legion's float.
I had written an article talking about and explaining the float but this article was never used. So now's the time with Remembrance Day close at hand to talk about it and the 2017 version.
At an executive meeting at the legion in 2012 I brought up " parade" for the town's centennial and what was our involvement. The answer was as it has been in the past, a convertible with the branch president and Ladies' Auxiliary president riding inside.
I said for such an event as Redcliff's 100th we should go all out. My suggestion was a trailer with a half 512E of the old cenotaph, and a half-size World War I German field gun like the one in the legion parking lot and few old and new Canadian flags.
I was put in charge and with help from both legion members and other Redcliff residents, things took shape. In the end, eight chairs were added and eight past presidents and veterans rode on the float and a third place ribbon awarded.
I know a few were skeptical of my idea and the half- size German field gun, which I personally helped build. It was built of welded metal even with a barrel that moved and down, it now resides on our front lawn as it has for the last five years.
The eight gentlemen on the float are as follows: Red Newnham, George Hope, Joe Bauir, all World War II veterans, Marvin Collinge, Harold Mattson, 'Koon' Baier, Bill Prouse and Al Massine. Originally Dennis Rathwell was to be on the float but instead rode in the truck along with myself and truck driver Al French.
Fast forward five years to 2017, the legion went with a similar a idea, a trailer with the new half-size cenotaph and seated past presidents. Unfortunately, time has taken its toll on the legion since 2012.
World War II veteran Red Newnham passed away, as well as Harold Mattson and 'Koon' Baier all passed away and others health issues that would not permit them to participate.
So consequently the chairs were cut in half and of the four chairs, only three had past presidents.
The three were George Hope- World War II veteran, Piere D'amore and Dennis Rathwell, the fourth chair had long time legion member Ken Forbes.
It's sometimes hard to believe how five years can make that big of difference with one organization. With this said lets not forget the legion and its role in the community.