Beaver dams helping with floods
Posted on November 28, 2017 by 40 Mile Commentator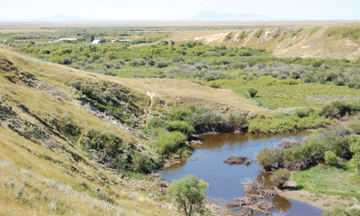 Photo submitted by Rob Gardner After many years of beaver activity, a broad valley near Manyberries has mature shrubs and some trees.
By: Justin Seward
Commentator/Courier
Beavers have been acting as engineers of their own craft in wetland areas for over a hundred years with their dams. However, rural people have had their concerns of the future prospects of flooding in their areas and will have the opportunity to learn how beavers can make an impact on water storage during periods of flooding and drought at an upcoming symposium hosted by the Miisstakis Institute and the Alberta Riparian Habitat Management Society (Cows and Fish) on how humans and animals co-exist.
"Beaver can absorb quite a significant amount of medium-sized floods and at the same time they provide benefits for ranchers and the environment," said Rob Gardner, a Medicine Hat- based conservationist and consultant.
Gardner had noticed on his hikes out in the prairies that there were streams with beavers in them that were looking healthy with lush growth along the banks, while others nearby did not have the same treatment.
Additionally, while in discussion with ranchers along the trail, he said they were intrigued that there were ways to co-exist with beaver.
"There are ways that people can adjust to beaver dams which are even bigger and yet the beavers happen to be there," said Gardner.
"Occassionally they'll put a dam where it starts to flood something that people have gotten attached to whether it's a hay field or wintering areas that's close to a creek. If a beaver dam is flooding your property, then chances are a flood will be flooding it pretty soon. Beavers are giving fair warning that you build your structures close to the creek."
Other topics of discussion at the symposium will include beaver ecology and lifestyle and new information will be brought forward on what impact the animal actually has on the environment.A second theme will be about how the beaver is managed in Alberta, what rules apply, what the problems are and how can they can be worked around.
The Putting Beavers to Work for Watershed Resiliency and Restoration symposium will be held in Cochrane at the Ranchhouse on Dec. 7 from 7:30 a.m. to 4:30 p.m.
If interested, you can call Gardner at (403) 527-2052 for more information and registration.