Redcliff RCMP arrest two suspects for multiple crimes
Posted on August 7, 2018 by 40 Mile Commentator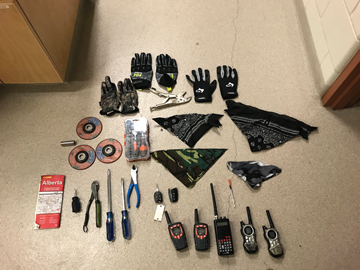 By Justin Seward
Commentator/Courier
Redcliff RCMP witnessed a silver Dodge Neon driving erratically going westbound on the Trans Canada Highway near the town in the early morning hours on Aug. 2. The car then turned around and headed eastbound in the westbound lanes and into oncoming traffic with the vehicle's headlights turned off. The neon entered into the City of Medicine Hat, where the car proceeded to drive in the ditch and became stuck. The driver and female passenger fled the scene. Both the RCMP and Medicine Hat Police Service were on scene, where the suspects were both caught behind nearby dumpsters.
Thirty-seven year old Christopher Hayward was charged with a dangerous operation of a motor vehicle, while 24-year-old Jesse Ann Shiach and him were charged with running away from a police officer, possession of break-in instruments and stolen property under $5,000.
Hayward has been remanded into custody in Medicine Hat Provincial Court on Aug. 7 and Shiach was released for court on Aug. 15.
Both suspects were from Red Deer.
Stolen appliances
Redcliff RCMP are also asking for the public's assistance in solving a break, enter and theft that occured in 100 block of Broadway Avenue on the weekend of July 28 and 29. The crime happened at a recently renovated residence, where the home was broken into and six appliances including a washer and dryer, stove, refrigerator, microwave oven and dishwater were all stolen. Police suspected that the stainless steel Samsung models were loaded into an unknown vehicle on the driveway.
Anyone with tips is asked to call Redcliff RCMP (403) 548-2288.