Redcliff Royal Canadian Legion on track
Posted on January 9, 2019 by 40 Mile Commentator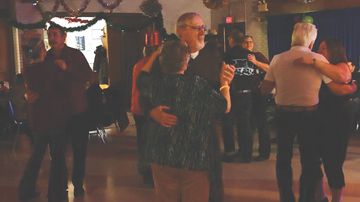 By Philip Buisseret
Commentator/Courier Freelancer
The Redcliff legion is on track to be a viable town business once again. That's if newly elected president Steve Marshall and his team have anything to do with it.
"We are going to build on the good work done previously and continue on with our successes," Marshall told the Courier.
The legion has been going through tough times over the last few years due to a slower economy and dwindling membership.
"Things have really turned around over the last while,"Marshall emphasized.
"Our finances and book-keeping are in order and we are gradually learning what the membership and community really respond to, our membership has increased, and we are doing a better job of listening to ideas presented to us."
President Marshall previously served with the Canadian Armed Forces and is very in tune with having his executive and the legion paid employees work as a team.
"I can't do it myself," he said.
"I don't have all the answers."
Some examples of how listening to the needs of others has paid off are the activities that are proving very popular such as pool tournaments, crib nights, trivia evenings, weekend Family dances and a Junior Darts team.
"We are making a big effort to attract young people and families to the legion. They are our future," explained Marshall.
"We also rent out rooms for banquets, weddings, birthday parties (and) in fact we now have a local oil company using our facilities to hold safety meetings which is handy for them as we have a full-service restaurant here also."
Bev Buchan, a very experienced caterer from Medicine Hat, and her co-worker Lorrain Dokan run the restaurant, they are both paid employees which works well for everyone, explained book-keeper Peggy Brown.
Marilyn Sommersmith, one of the barmaids told the Courier t that " we all help out when needed and we do it from the heart, we don't always look for pay for everything that we do, we know that the legion needs help and we are all willing to make things work out when there is a need."
Pierre D'Amour was the manager for many years until retirement, but spends countless hours each week driving from Medicine Hat to help out and volunteer.
His expertise and knowledge gleaned over the last 40 years is invaluable to keeping things running and he is passionate about this legion rounding up help, giving advice wherever he can.
The way ahead looks good for this long time Redcliff institution, says Marshall.
"We need the Redcliff residents and legion members to come out and support us, we are non-profit and contribute to the community, come out and try our Saturday breakfast," he urges.
"For $8.95 its a good deal and our Thursday steak night and Friday fish suppers are getting good reviews and very reasonable prices"!
Marshall pointed out with emphasis that the Redcliff legion is open to the public and really deserves a second look. If you are looking for food or entertainment, its staff and volunteers are a great testament to the resilience of the establishment.
It is important to the Town of Redcliff not only as a gathering place but it projects a real feel of small town community that is such a draw for anybody thinking of moving to the town.