Cloutier passes through southern Alberta on his journey of fulfilling his dreams
Posted on June 2, 2015 by 40 Mile Commentator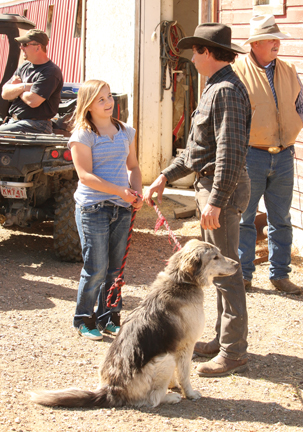 Pierre Cloutier has made many new friends on his journey across Canada. Here, Cloutier, (with dog, Eska) chat with Amber Schatz when he was in the Foremost area. On this day, Cloutier helped out at the Schatz branding party.
By Jamie Rieger
Pierre Cloutier was an auctioneer and truck driver before he began his journey across Canada  last November with a team of horses and a wagon, setting out to fulfill lifelong dreams.
"Dad bought me my first horse when I was 12 and since then, I always dreamed of being a cowboy," said Cloutier.
He embarked on his journey last November and spent all winter on the road. The first few nights, he slept in his wagon in the sub-zero temperatures.
"I bought food for myself and my horses, but soon people started inviting me to stay," he said, adding that as an auctioneer he has never had trouble meeting and talking to people.
Cloutier says he meets between 50 and 100 people every day.
"I have had hard times along the way, but that's normal and I get to live my dream every day. My dream is my life," he said.
Some of those hardships have been the freezing winter weather in Manitoba and ongoing concerns for his horses. While in Saskatchewan, Cloutier started looking for two more horses to help with the two he already had to pull his wagon.
"I didn't want to be pushing them too much," he said.
He has spent time at several branding parties in southern Alberta, including while he was staying with Dennis and Glenda Schatz, west of Foremost.
While there, he was able to find two new horses so he and Dennis traveled to Porcupine Hills to purchase them from Charlie Barr.
"Southern Alberta is terrific, the people are wonderful," said Cloutier.
Cloutier said he is doing what the early homesteaders did many years ago in traveling across country, not knowing what would like ahead.
"I am repeating what they did more than a century ago when the pioneers came out here for a new life. And, this is my life," he said.
As he pushes west, he does know that traveling through the mountains will be his biggest challenge, but he has planned out the trek and is ready for it.
Cloutier is not sure where he will end up in British Columbia, but he will know when he gets there.
"I'm not sure how life is going to be out there or where it's going to be. I'll know when I get there," he said.