Shortgrass Library System announcing CODE RED, but for a compassionate reason
Posted on May 14, 2022 by Ryan Dahlman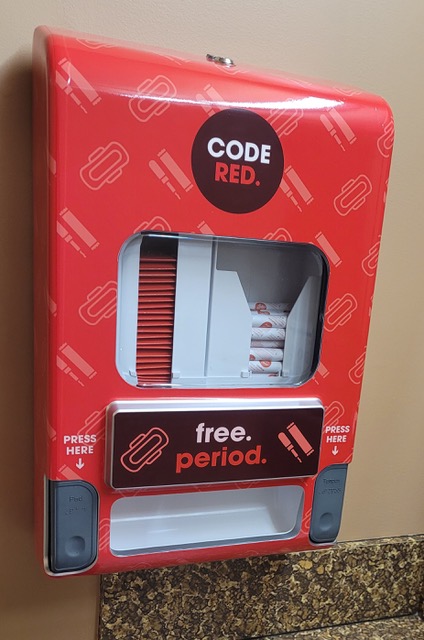 By Anna Smith Commentor/Courier
Don't let the name fool you; Shortgrass Library System's CODE RED project aims to take some of the alarm away from menstruation.
This initiative aims to tackle period poverty, where people who menstruate are unable to access appropriate hygiene supplies, by making these products, dispensers, and educational content available in six libraries across Southeastern Alberta.
"We were very fortunate that we received a grant to fund this project through the Community Foundation of Southeast Alberta. Otherwise, we really wouldn't have been able to get this project off the ground," said Petra Mauerhoff, Chief Executive Officer of Shortgrass Library System.
The grant covered not only the products themselves for the pilot program, but promotion and the decoration of the dispensers and imaging to help make the pilot program cohesive across the six libraries where CODE RED is available. Medicine Hat Public Library, Redcliff Public Library, Bassano Memorial Library, Bow Island (Susan Andersen) Municipal Library, Irvine Community Library and Gem Jubilee Library are all participants in the initiative. The project was being considered even before the pandemic, said Kait McClary, Client Services Librarian.
"This was like an idea that was being discussed here, even then," said McClary. "But we applied for the grant last summer, and were awarded it over the winter. So we've been working at it very diligently trying to get everything off the ground for the past three, four months."
Period poverty is a serious issue in Canada, with 23% of menstruators having struggled to afford sanitary products, and 70% having missed school, work, or a social event as a result of their period, according to the Period Stigma Report by Plan International Canada. CODE RED takes more than just the products themselves into account, however, and plans to combat some of the stigma surrounding menstruation directly.
"In addition to the free period products in the libraries, we also developed a bit of a collection, a library book collection to go with it, too, to help tackle some of the stigma and make sure people are really informed about the issue of periods in general," said Mauerhoff. "And so we added a bunch of audio books on the subject as well as physical print materials on the subject as well that people can borrow."
"I think pretty much anyone who menstruates has had that experience of sort of trying to sneak to the washroom with a hidden tampon or some other product in their hand or in their pocket or even in the washroom stall, trying to be quiet because God forbid somebody knows what you're doing, which is really ridiculous, because it's all part of life," said Mauerhoff.
Inspiration for CODE RED came from a similar initiative at the Grande Prairie Public Library, said McClary, which launched in 2019. She notes that she thought it would be wonderful to offer something similar to the area that Shortgrass serves.
"We have the advantage of being a regional system, we serve in total 14 public libraries throughout the region," said Mauerhoff. "When we have a project like that we can have a much further reach than a library and just one community might have, which is really pretty exciting, especially in some of the more rural communities where people might not necessarily expect to find amenities in a washroom in a public washroom that they access."
Shortgrass encourages people to come out to their local libraries, regardless of whether or not they need period products, as there is "probably something else they'll be interested in," said Mauerhoff. "We always see our libraries as sort of that third space and people's lives, you know, there's home and then there's either your work or your school, depending on what age group you fall in," said Mauerhoff. "And then there's a third space that's really kind of needed outside from home that will be a safe place that you can access without having to spend money that you can access no matter what your income, what your background, and we like to see the library as that place."