Participate in the Bow Island Amazing Race to support the Susan Andersen Library, entries due May 20
Posted on May 18, 2022 by admin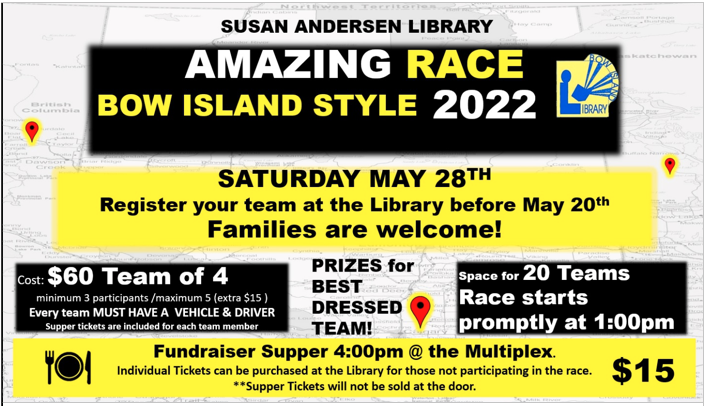 By Samantha Johnson
Commentator/Courier
If you are looking for something exciting and adventurous to do on Saturday, May 28 that also supports the Susan Andersen Library, gather a team of four to five people and join in the 2022 Bow Island Amazing Race. There is no running involved and athletic ability is not required.
Each team must have a vehicle and a licenced driver but other than that, only quick-thinking, a bit of a competitive spirit and a desire to have fun are necessary.
The race involves a series of challenges that are all in or very close (within one mile) to Bow Island. Except for the first clue, which all teams do together, each team does all the challenges in a different order. If you start on the Challenge 1 then you move sequentially forward, but if you start at Challenge 3 then Challenge 2 would be the last one your team does.
There will be between 15-25 challenges altogether. Some of the challenges are short or close together so more challenges than teams are needed to avoid teams tripping over each other. The race is scheduled to start promptly at 1 p.m. on Saturday May 28 and everyone meets at the library to collect their first clue.
While specifics about the challenges can't be given due to the nature of the race, one of the challenges in a previous race was to count the number of hats on the fence posts east of Bow Island. The participants had to count the hats and then go somewhere else to give the number in order to receive the next clue. If the number was wrong, the team had to go back and count the hats again. An unforeseen consequence of this challenge was it inhibited traffic on Highway 3 and that is why it won't be repeated, but it does give teams an idea of the type of challenges that could be involved.
Jane Ficiur, a nurse at the hospital in Bow Island, is the organizer of the race. She has organized four Amazing Races in the past, three in Bow Island and one in Medicine Hat so she is experienced at creating interesting challenges.
"I've always loved the TV show The Amazing Race," said Ficiur. "A few years ago I was driving home from Calgary and stopped in Chestermere where there were several signs advertising Amazing Race Chestermere-Style. It was to be a fundraiser for a service club. I thought to myself that it sounded like fun, so I brought the idea home to the hospital staff association for a fun staff activity. We carried through with that and had another two years later. I have also organized one for my church family and one as a grad party in Medicine Hat for my son's graduation party. I plan the challenges by looking around at what is available and try to find ideas to match the sites. We have Pinto McBean, and a water tower shaped like a Bean Pot. For this race, there will be at least one bean challenge at one of those sites. I am an organizer – I love planning events of all kinds especially looking at the details. This is just one of those events."
The maximum number of teams for this year's race is 20, so sign up as soon as possible. Deadline is May 20. This is a family-friendly event and teams can sign up at the library or go to the Susan Andersen Library Facebook page to register online or for more information about the race. To enter, it costs $60 for a team of 3 or 4 people, with an extra $15 added for a team of 5, which is the maximum number of people per team.
The prize for the winning team has been donated by Doug and Dixie Conquergood. There will also be a small prize for the best dressed team. Aside from that, bragging rights for winning or even participating will go far.
The day will end with a fundraiser supper at the Bow Island Multiplex. Supper is included for all teams and anyone who isn't involved in the race, but wants to join in on the supper can buy a ticket separately for $15. The library wanted to keep the entry fee as low as possible so that most people could participate. It is for a good cause and, even if you aren't a member of a team, come out at the beginning and the end to show your support for both the teams and the library.