St. Michael's School showcasing a talented group of students May 26
Posted on May 20, 2022 by Ryan Dahlman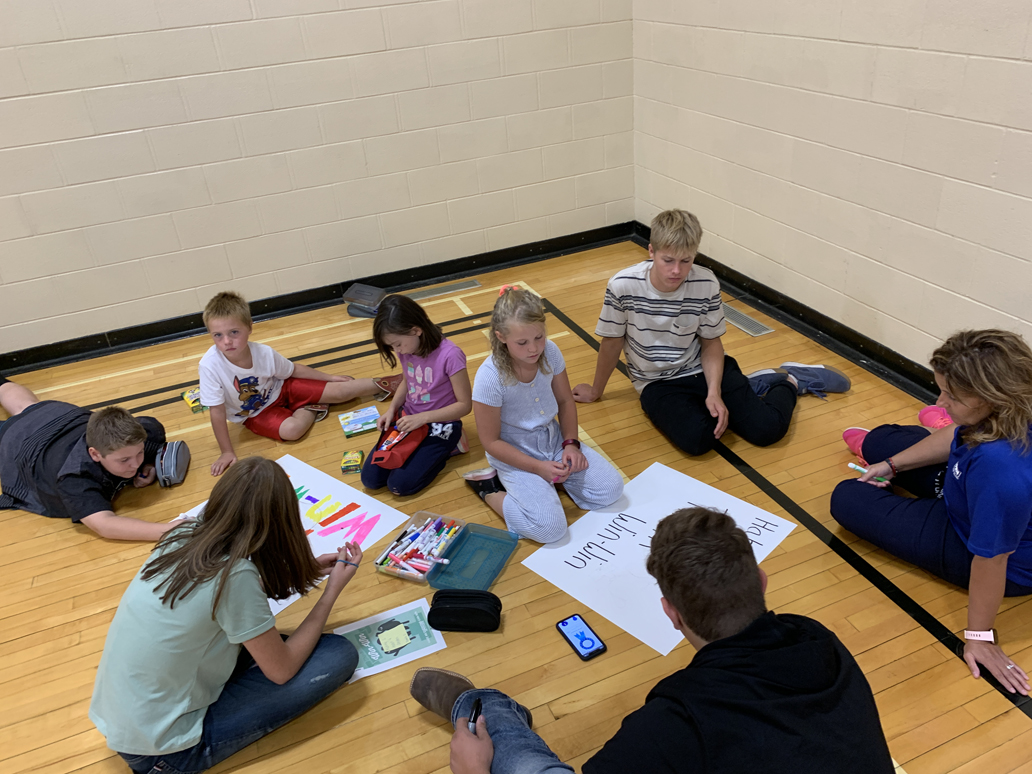 SMBI students work together in their school family on a poster project, similar to the groups they will be presenting in during the Showcase evening.  From left back circling around are Soto Kouremenos, Connor Pahl, Ryker Collins, Meggie Biegel, Jay Hiebert, Ms. Matulin, Hunter Nelson, Raegen Lodders. 
By Anna Smith
St. Michael's School in Bow Island is preparing, after six years, for their showcase night, a chance for students to celebrate their hard work and accomplishments.
"Our showcase is a chance for students to celebrate what they've learned, share their celebrations with family, friends, neighbours, community members, and just a chance to come together as a school community, because of course, we haven't for very long, a very long time," said Jill Weatherhead, a teacher at St. Michael's School and the organizer for the event.
"At this point, we're calling it sort of an evening of storytelling, but storytelling in a sense that we have some wonderful stories that happen within the walls of St. Michael's School," said Weatherhead.
"And some of these stories are athletic stories, some of them are a little bit more faith based stories. Some of them are academic, and many of them are our leadership stories. And so we want to give students the chance to be leaders in their own right. So that they can tell the story they're most excited about."
The school has a strong sense of nervous excitement as the date approaches, said Weatherhead, as students prepare for both the freedom in choosing their own accomplishments to celebrate and the responsibility associated with taking the lead with the Showcase event without much of a template from previous years to fall back on.
Previously, the event was more teacher-led, said Weatherhead, but this time they're allowing the students to choose what stories they want to tell and celebrate.
"The students have worked really hard the last few years. And I think that even the kids that score well on a report card, for example, I don't even know that they realize how much they've accomplished. They just, they just kind of are used to putting their head down and digging their heels in and doing the work that comes across, and I think they need to celebrate it," said Weatherhead.
The Showcase evening will take place from 6–8 p.m. at St. Michael's School on May 26, and while it will begin somewhat formally, attendees are encouraged to come and explore the accomplishments of all 85 students in the less formal grouping following the opening address.
"Although it is very much a celebration of the students we have in the school, we want to broadcast it to everyone. So we want everyone to feel welcome," said Weatherhead. "You don't have to be Catholic, you don't have to be a member of the school. You don't have to be a member of the Catholic Church so yeah, everyone is welcome just to pop in."