St. Michael's students earned 17 spots at the Esplanade
Posted on May 20, 2022 by Ryan Dahlman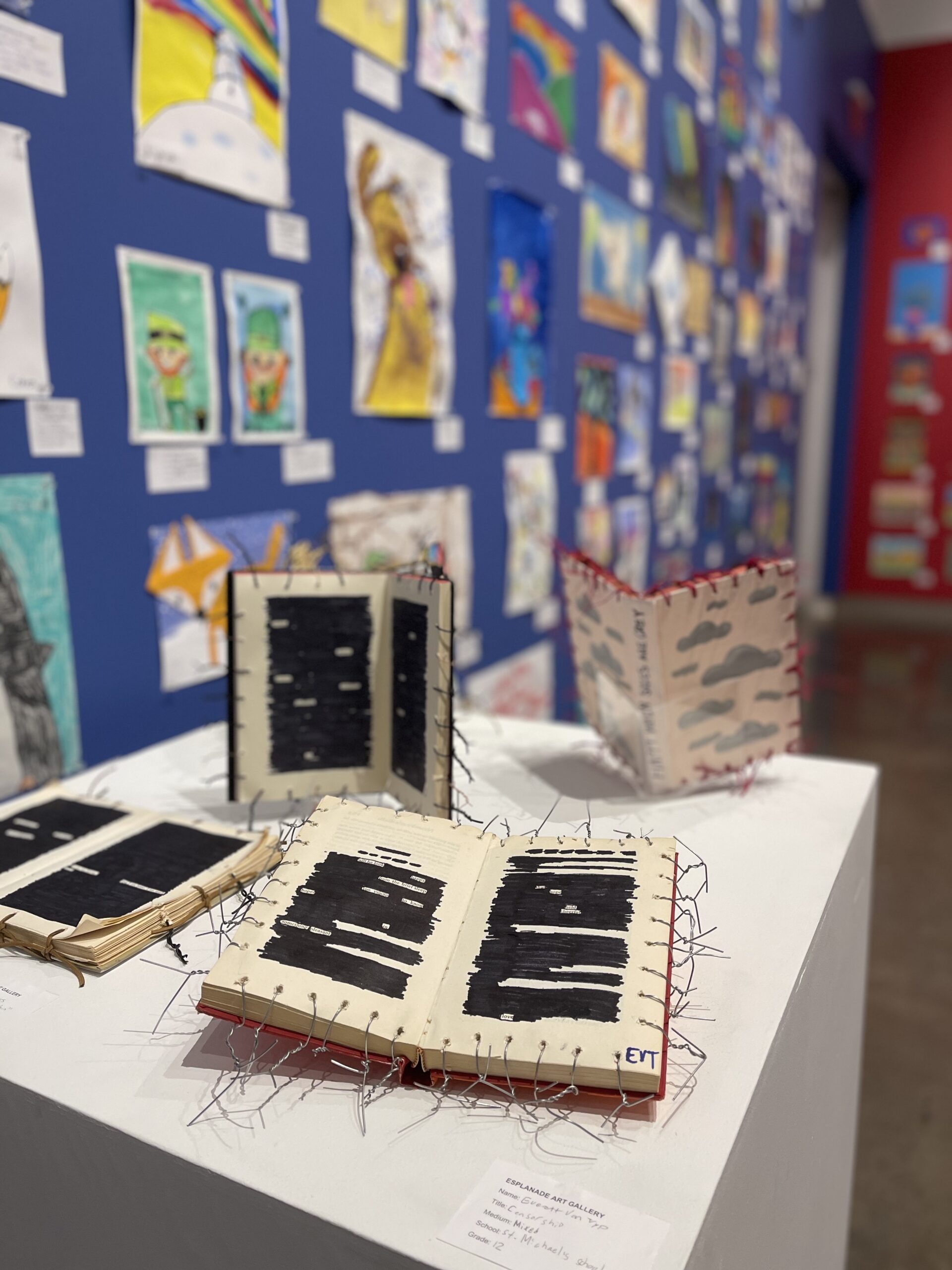 Pictures of St. Michael School's student art on display at the Esplanade in Medicine Hat. Credit to Stelmaschuk Studios for photos.
By Anna Smith
Commentator/Courier
Bow Island's St. Michael's School and its' dedication to creativity and art in the lives of their students has earned 17 different pieces a place on display in Medicine Hat's Esplanade.
Until August 20th, over 800 pieces of art from 41 schools in the area will be on display, and several of these pieces, said grades 7–9 art teacher Erin Beigel, are a part of the student's year-long work with art in all aspects of their education.
"More so than the typical art program where the end product is what hangs on the bulletin board, we want to just really foster that creative thinking in kids," said Beigel. "Whether you're, whether it's in art class, or if it's in social studies, or maths or just problem solving in life is really to build that creative thinking."
Beigel explains a project she recently did with the grade 11 and 12 students as part of their social studies course as an example, where they created book pieces as a response to censorship in World War Two. Some of these pieces are a part of the collection, as well as two-dimensional work and sculptures from a two week intensive sculpture option.
"A lot of our kids are super creative and like to work with their hands, you know, social studies, it's all books. So it's really nice to be able to integrate an art project into social studies to kind of get those points across," said Beigel.
The works on display at the Esplanade were not created for the purpose of entering them, said Beigel, but rather pieces that the kids themselves were proud of, or ones that she or the other art instructors took notice of.
"Nothing was specifically for the show, everything was just pieces that the kids either chose, or that the teachers chose. Because they thought that they, you know, would be something that might be a good fit," said Beigel, who added that she found that having students make pieces specifically to be submitted can backfire due to pressure.
The kids with works in the show have been very impressed with themselves, said Beigel, as the Esplanade show is a juried collection and outside of the school itself, which can be an extra source of validation and inspiration for those pursuing the arts after graduation.
"For some of the younger kids that have had pieces chosen in the show, I hope when they go see the show, and the way it's set up as you walk in the door, it starts at K and it wraps all the way around to 12. They can see that this is something they can do in the future, too," said Beigel. "The Esplanade has other shows running at the same time right so even just to get them in the door to see their own work and then to see I'm not sure which shows are running currently with it, but then to also see other artwork there. And to know that this, this big special space is dedicated to artists."
Beigel is grateful for all of the other teachers, as well, without whom this accomplishment would not be possible, and for the hard work of the students, both with and without pieces on display.
"If I could hammer one thing home, it would just be creative thinking and art integration into different classes. And even if you're not someone that likes to work with your hands, it's the mental health aspect of it," said Beigel. "To take that pressure off, and encourage the creative, the creative vibes, and just getting kids off their phones, and thinking for themselves, giving them a couple different mediums, some paper or some clay and be like, just play with it, just play, and maybe make something."