St. Michael's School giving back with volunteering venture
Posted on May 25, 2022 by Ryan Dahlman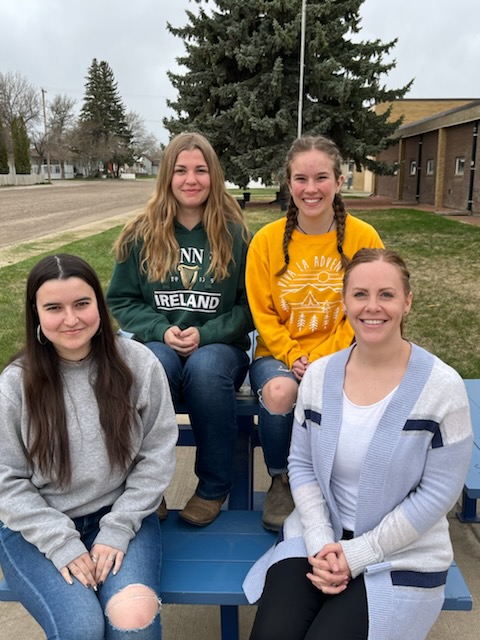 Picture of the students participating in this year's Youth in Philanthropy. Back: Anke-Marie Van Tryp, Leigha Hansen. Front: Uxue Maestro and Megan Schwab. Photo provided by Megan Schwab.
By Anna Smith
Commentator/Courier
From the ball diamonds and rodeo grounds to new mothers, students at St. Michael's School in Bow Island work hard to give back to the community they live in.
Three grade 11 students, Anke-Marie Van Tryp, Leigha Hansen, Uxue Maestro took part in the Youth in Philanthropy program, said Megan Schwab, who organized the program as well as the upcoming ball diamond cleanup.
"We had three grade 11 students who participated and they chose the charity in Medicine Hat, Nurture Pregnancy Centre. So that provides care for expecting mothers and mothers who just have had their baby and counselling and everything else with that," said Schwab. "Our students really want to focus on a faith based centre as well. So we were able to give them $2,000. The students had to research the charity themselves, interview them, phone them, interview them and gather information about how the money would be spent, if we chose them as our charity. And then the students had to present to the Community Foundation and get approval."
The process took about 2 months, said Schwab, which took less time than the previous year, as two students had taken part in the program before. The third is an exchange student from Spain. Schwab noted how impressed she was with the three student's work ethic and dedication.
"I would hear them when they left the classroom about how happy they were to be part of this youth and philanthropy program. And, and they were saying how why wouldn't you be part of this?" said Schwab. "We met every Tuesday at lunch. But it was more of me just guiding them kind of seeing where they're at what they should be doing. But those three ladies took it basically all on their own."
This is not the end of  the Holy Spirit's School Division's school's work to do their part for their community. The students in grades 7–12 gear up for their service project.
"We're feeling again, as a faith-base, to give back. And that's all about leadership, service projects, so focused on that," said Schwab. "So we just started pulling grades seven through 12. Together, we wanted to give back to the community of Bow Island and help them in some way."
Originally the students planned to clean up Bow Island Cemetery, but upon finding the area had already been cleaned up, Schawb called the town and asked where their eager students could best help out.
"I just contacted the town and said, hey, where do you need a need for the students to help out whether they're picking up garbage, whether they're raking the leaves, whether anything that they need," said Schwab. "And they got back to me saying  the ball diamonds and the rodeo grounds could use a good cleanup. So we're, we're going to be walking over there. Next Thursday, May 19. and cleaning up the grounds from 1245 till three o'clock, the whole afternoon."
Six students will also be cleaning up the St. Michael's parish grounds, but the majority of the students will be out tidying up the ball diamond and rodeo grounds, said Schwab.
"I didn't hear any grumblings. They were totally on board," said Schwab. "We have a great group of kids in our building."
"This is important because the students are learning to give back to the community. The community does so much for our school through donations, through services. And it's just important that they step away from the classroom, step away from the books and let's give let's give back," said Schwab. "and we talk to the kids about how Youth in Philanthropy, the service project, everything looks great on a resume. This is volunteer work. When you're applying for a job, when you're applying for post secondary admissions and you're putting down what you have done for volunteer work, they can say they've cleaned up in their community, they've served on Youth in Philanthropy. They're building their futures."