Dr. Seuss-themed Children's Festival in Bow Island June 19th 
Posted on May 31, 2022 by 40 Mile Commentator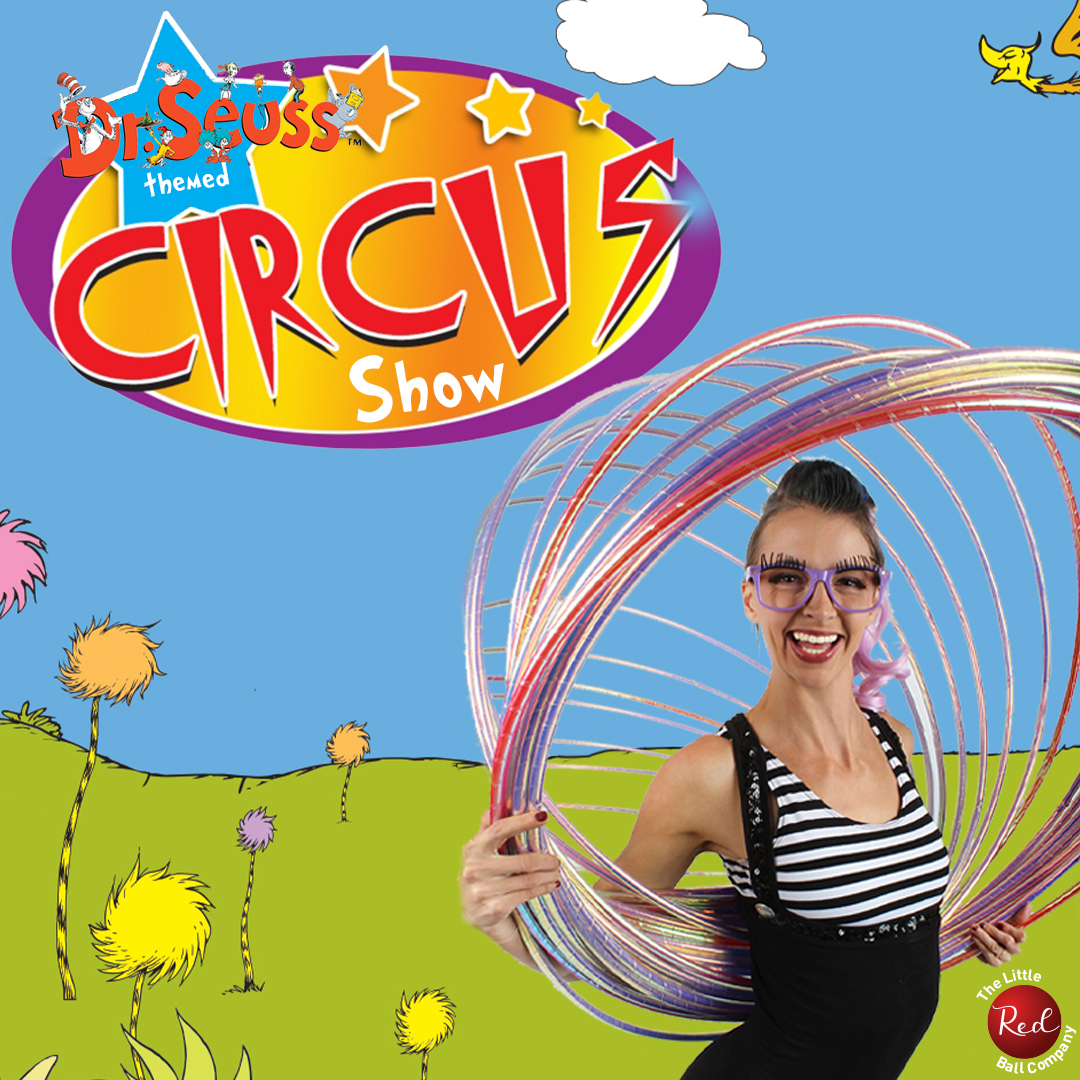 Children's Festival will have a Dr. Seuss flavour as the Little Red Ball Company's Dr. Seuss Circus & Variety Show will be featured.
By Samantha Johnson
Commentator/Courier
After two years of cancellations, the Children's Festival is back for its 31st year at an indoor location.
Due to the planned construction of the Kale Porteous Memorial Splash Park at Centennial Park, the Children's Festival has been moved to the Servus Community Arena and outside in Jubilee Park.
As per tradition, the festival will be held the Sunday of Father's Day weekend, this year on June 19.
"We've received some amazing grants and outstanding financial support through sponsorships from our local businesses. We are excited to be back, and the committee is working hard to give the kids a fantastic festival!" Kelly Thacker, Chairman of Bow Island Friends of the Library Society said,
The festival committee sources theatrical events from across Canada. This year, the Bow Island Lions Club will be sponsoring the main stage event, which is a Dr. Seuss Circus & Variety Show. The Little Red Ball Company (www.lrbcompany.com) will be providing the stage entertainment for the day. Along with the Dr. Seuss Circus Show, there will be juggling, stilt walking, magic, contortionists, hula hoops, and a lot more.
Kate Ryan, who is the founder of The Little Red Ball (LRB) Company and a Circus Hula Hoop Artist, has been doing circus since she was 17. She started with a single hula hoop, and it was the one thing that brought her joy. "
It took all of five minutes for me to decide that was going to be my career. I very shortly moved to Asia and then Australia where I trained for the circus," explained Ryan.
After two years of training, Ryan returned to Canada to start her company. "I never really had a 9-5 job per se," said Ryan. "I ran away and joined the circus very young."
There are set themes that The LRB Company runs each year. The Dr. Seuss' theme was inspired by a Saskatoon-based client who does a bi-annual Care for Kids Fundraiser.
Ryan and her company will perform Dr. Seuss-themed shows at Children's Festivals throughout the summer, where they wish to inspire children to be the best versions of themselves.
"That's why we love Dr. Seuss so much," stated Ryan, "because nobody else can be who you can be; today you are you, that is truer than true! There is no one alive who is you-er than you!"
The show will run throughout the summer and end in the fall at the Care for Kids Financial Fundraiser.
There will be five artists from Ryan's company coming to Bow Island. Both the town and the circus have been waiting for the opportunity since 2020 for this event to happen. They were the main stage event booked for both the 2020 and 2021 festivals, which were both cancelled due to the pandemic.
It's not all about festivals for Ryan, who also dedicates her time to social circus projects around the world.
Ryan has been part of social circuses in Thailand and Burma (sparkcircus.org), and independently in Mexico and Australia. In addition, Ryan has worked in Canada with Nutrien Potash Corp to provide social circus to remote communities in Northern Saskatchewan. Thailand is where Ryan got her roots in social circus when she started working with Spark Circus six years ago. She has made her way from volunteer circus performer and workshop facilitator all the way up to Media Entertainment Director.
For the Bow Island Children's Festival, and with each time the artists perform their shows, Ryan wants "to inspire our audience to be the best versions of themselves. We've had an odd two years and we want our audience to have a laugh and say, it's okay to be different!". When creating these shows, Ryan and her artists write their performance from play-based learning techniques. She says, "play has a purpose, and sometimes that purpose is to simply have no purpose at all."
Hands-on crafts and stationed activities – such as glitter tattoos, cupcake decorating, and Play-doh – will be located inside the arena. Outside will be the Capital Power sponsored Petting Zoo, the Western Tractor sponsored Air Jump, a train, and a festival favorite, Pedal Tractors.
The annual Bow Island Children's Festival is an event organized and financially supported by the Friends of the Library Society to promote Bow Island's local Susan Andersen Library, family literacy and volunteerism. The committee which started in 1989, has evolved throughout the years and now includes a AGLC Casino to assist in raising funds for library services and programs.
Thacker joined The Friends of the Library Society in the fall of 2013. The board committee was reaching out for new members, and since her own children were enjoying the festival each year, it was an easy decision. During the September AGM of 2019, Thacker stepped down from vice role and became Chairman.
Grant money in support of the festival has been provided by the Community Foundation of Southeastern Alberta, Forty-Mile Regional FCSS, and Alberta Foundation for the Arts. The Committee is looking to upgrade outdated equipment with these grants, such as new tables, chairs, and outdoor canopies. They also want to purchase some climbing/playset activity centres for the kids, and new supplies for various hands-on stations.
They are a small group of volunteers who are always looking for help. If you are interested in volunteering at the Children's Festival or with the Friends of the Library, please contact Thacker at 403-584-0024. For more information see the Bow Island Children's Festival Facebook page or the Children's Festival website at bowislandchildrensfestival.com.