Rural Community Fund of Forty Mile distributes assistance thanks to ag community
Posted on June 9, 2022 by 40 Mile Commentator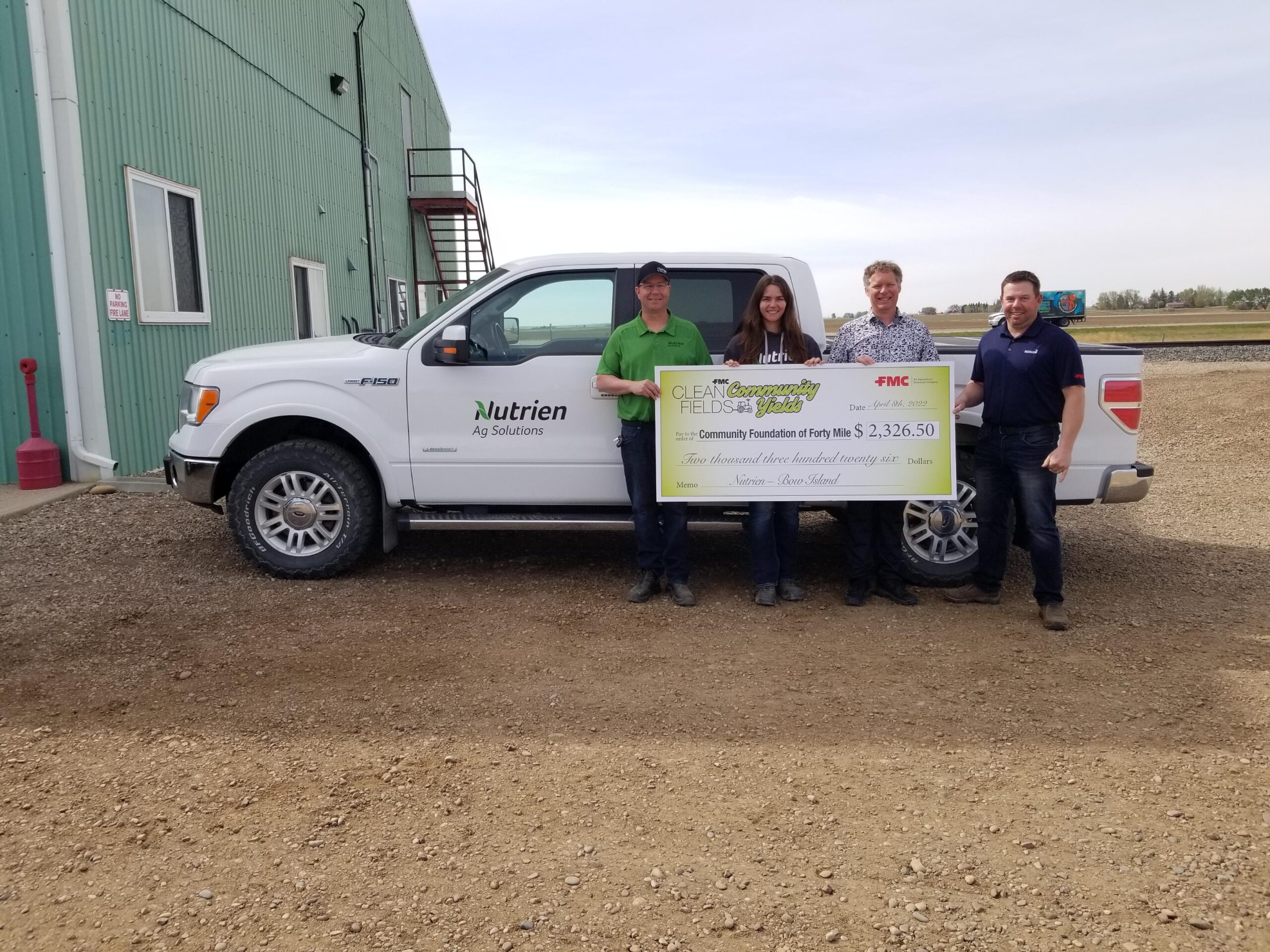 Photo submitted (Left to Right) Randall Egeland and Lauren Rathwell with Nutrien Ag Solutions, Curtis Gouw, a Rural Community Fund of Forty Mile Advisory Committee Member, Clayton Hodgson from FMC stand with the cheque for their FMC Clean Fields, Community Yields program donation.
By Anna Smith
Commentator/Courier
FMC and Nutrien Ag Solutions came together to help the Community Foundation of Southeastern Alberta (CFSEA) sow the seeds for a thriving community.
As part of the FMC Clean Fields, Community Yields program, which was designed to provide donations to a local organization specifically chosen by a participating ag retailer, the Rural Community Fund of Forty Mile received a total of $2,326.20, said Sara Weatherhead, Forty Community Fund Coordinator.
"Nutrient Ag Solutions then partnered up with the FMC to apply for this grant. And when applying, they wanted the organization to be the Rural Community Fund of Forty Mile," said Weatherhead. "So they put in their application in the fall, once they kind of got all those numbers in because it donates 10 cents per acre of product sold."
The donated funds are being placed into the fund directly, said Weatherhead, where they will be used to continue the CFSEA philosophy of "giving where you live" and will not be spent.
"It's so awesome that they thought of us as an organization to give to and Nutrien really felt it was a great fit, because the money will stay in our fund for years and years to come," said Weatherhead. "So that money will then be going to projects for years and years to come. To have their donation given to us just shows the importance of the rural fund in our community, and the impact that it can have just not today, but tomorrow and forever. So it was amazing to hear about this. And we're just beyond grateful to have that added to our fund."
Like the rest of the fund, Weatherhead adds that the money will never be spent, only invested back into the community that she and the Forty Mile Fund serves through their various projects and grants.
"I'd just like to give a huge thank you to FMC and Nutrient ag solutions, for taking the time to do the application, and that we just appreciate all their efforts," said Weatherhead.