Rural Community Fund of Forty Mile celebrates June 14
Posted on June 10, 2022 by 40 Mile Commentator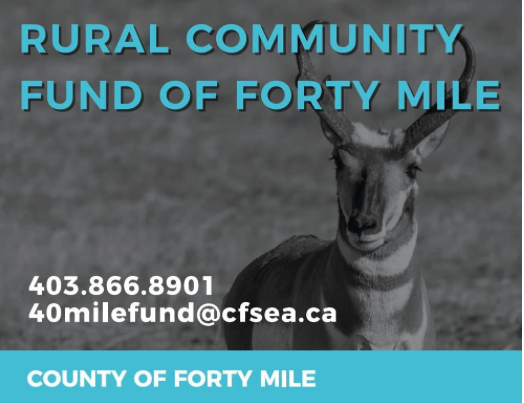 By Anna Smith
Commentator/Courier
The Rural Community Fund of Forty Mile is gearing up for celebration as they reach their third year of operation.
To mark this event, they're inviting the community they serve to come together and share experiences, projects, and plans at Blues at the Bow on June 14th.
"We are celebrating our third year of the rural fund, and we invite everyone to attend," said Sara Weatherhead, Community Fund Coordinator for the Rural Community Fund of Forty Mile.
"We have some exciting announcements, and we have an exciting award. And then we have our community grants for the spring that we will also be giving out," said Weatherhead. "So it's just a time to celebrate all the accomplishments the rural fund has had in the past three years. Celebrate and just get together and you know, all the wonderful things that have happened and will continue to happen."
Those interested in attending are asked to RSVP by June 5th, either by calling the Forty Mile Fund at 403-866-8901 or by emailing 40milefund@cfsea.ca.
"I don't want to give away too much, because I want it to happen at the event, but it's more so that we're going to have those in our grant presentations. And then after just kind of like a mix and mingle to, you know, just meet other people in the community and just chat about the community funds and how they have been involved with the community fund in the past three years. We hope to see everyone there," said Weatherhead.