Blues at the Bow music hits the stage June 25
Posted on June 23, 2022 by Ryan Dahlman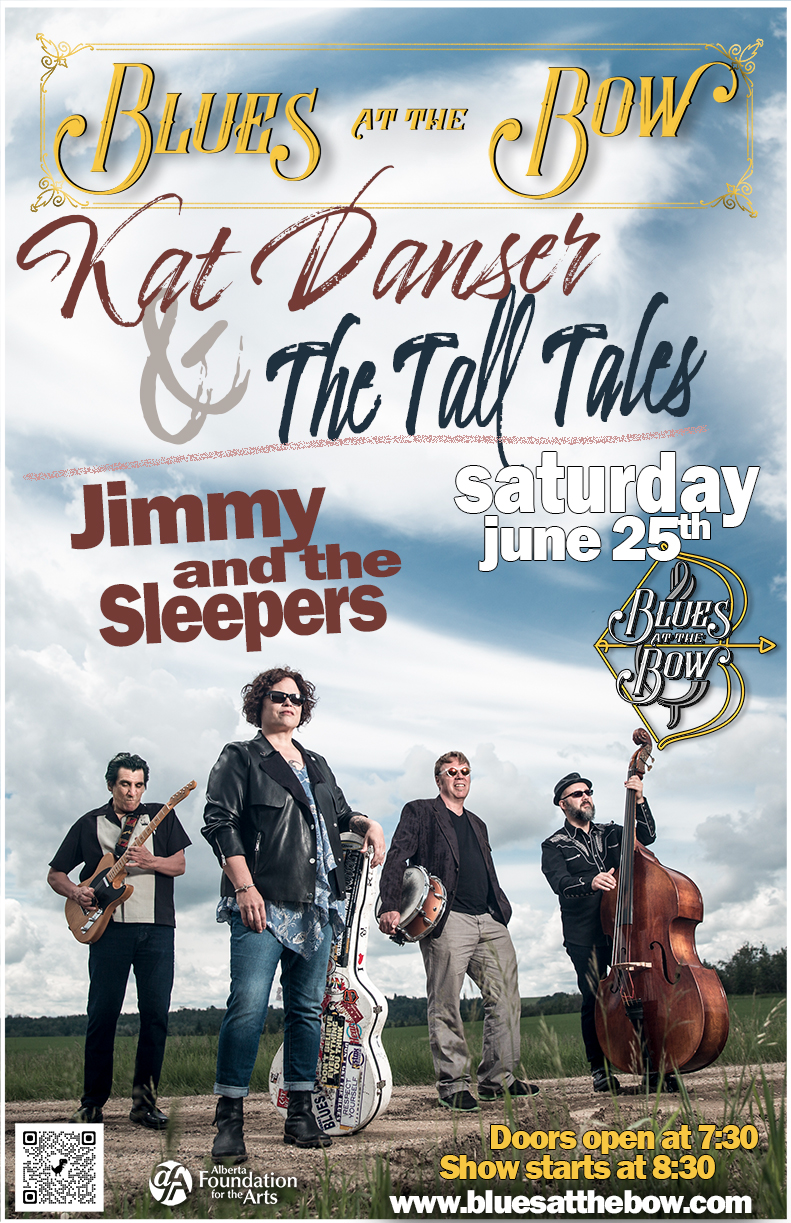 Contributed
Blues at the Bow live music fans to unite at the upcoming show on June 25 with the incredible Kat Danser & The Tall Tales and opener Jimmy & The Sleepers.
There's a trail that runs from the dead heat of the Mississippi Delta, through the winding alleyways of Havana to the smoky confines of a cigar club in Edmonton. Kat Danser has spent most of her life trawling the backstreets of the blues and her sixth album 'One Eye Open' reflects the fruits of her explorations. From an old string band melody passed down from the twenties, to a lyric written the night before the Covid pandemic shut the world down, the past rides shotgun with the present on everything Kat Danser sings and plays. 
Jimmy & The Sleepers are a gritty, genuine house rockin' blues band based in Edmonton, Canada. For years Edmonton has had a modest, but reverent blues scene which has fostered a blues sound a little more traditional…. Blues is alive in Edmonton and Jimmy and the Sleepers are disciples of the sound and dedicated to it's roots. After smouldering like an underground fire for close to 15 years they are more ready than ever to burn out of the frozen Alberta North and showcase their Edmonton-styled blues to the world. 
Blues at the Bow provides an incredibly unique, live entertainment venue that has been bringing Grammy, Juno, W.C. Handy Award, and International Blues Challenge award-winning and nominated artists to the southern Alberta area. Over the past few years we have provided an amazing line-up of award-winning artists like Colin James, Jack de Keyzer, Roy Rogers, Romi Mayes, Paul Deslauriers, Colin Linden and The Harpoonist and the Axe Murderer.   With sold out concerts for the majority of our shows, this next concert at Blues at the Bow will be no exception, so don't miss out!
The following links are available if you want to take a further look at these award winning artists http://www.katdanser.com/the-tall-tales/ or http://jimmyandthesleepers.com/Welcome.html.   Or, if you want to know more about the show at Blues at the Bow https://www.bluesatthebow.com/ or to be ready to go to purchase tickets https://www.eventbrite.ca/e/kat-danser-the-tall-talesjimmy-the-sleepers-tickets-228304674427?aff=ebdsoporgprofile
Here is the event summary: Blues at the Bow: Kat Danser & The Tall Tales; Opening with Jimmy & The Sleepers, June 25. Doors open 7:30 p.m., shows start 8:30 p.m.
For more information on Blues at the Bow please visit: http://www.bluesatthebow.com/about/