Etzikom Museum has been busy; invites visitors to Old-Fashioned Day Aug. 7
Posted on July 27, 2022 by Ryan Dahlman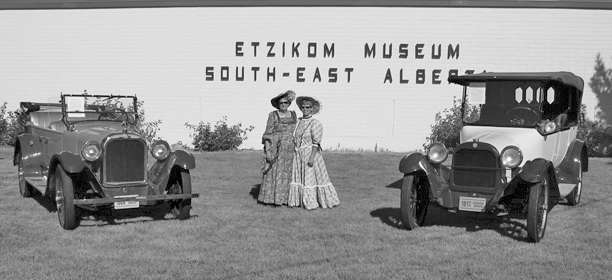 Submitted on behalf of Etzikom Museum & Historic Windmill Interpretive Centre 
Etzikom Museum kicked off our 2022 season May 14 with "Date Night at the Museum." An evening wherein the museum displays of yesteryear came to life through skits and character sketches. The volunteer cast & crew of 23 played to a full house of 40 guests. 
The museum will remain open 7 days a week from 10 a.m. – 5 p.m. through September 5. When visiting this summer, you may enjoy a selection from the lunch counter in our new gazebo or while relaxing in the shade on our recently added park benches. The gazebo and park benches were constructed and donated by Gary, Raylene, and Devyn Hobbs. While inside the museum be sure to check out our newly installed touchscreens, made possible by the Community Foundation of Southeastern Alberta. On one, located in our Main Street exhibit, you will find an account of windmill history and information. Another, full of fun facts about animals is in the wildlife room. Also a video presentation of local and museum history is now available for viewing in the museum library. 
Come join us for an "Old Fashioned Fun Day," Sunday, August 7. In addition to our museum displays, festivities will include an outdoor church service beginning at 11 a.m. . To be followed by live music and children's activities throughout the day. Hot lunch is available for purchase starting at noon. 
A most sincere thank you to this season's contributors: Medicine Hat Historical Society, Capital Power, Hobbs family, and multiple private donors. Your kindness and generosity is greatly appreciated!