County of 40 Mile deals with numerous separate issues including water, stolen truck, road repair and fire ban
Posted on August 23, 2022 by Ryan Dahlman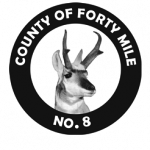 By Samantha Johnson
At the regularly scheduled council meeting for the County of 40 Mile on Wednesday, August 10, Fire Chief Mark Myra joined the meeting to discuss putting in a fire ban. 
Reeve Craig Widmer, said "a couple councillors were concerned about how dry it was and were wondering if the County should be under a fire ban." At present, there is a fire advisory out, which the Fire Chief claims is sufficient. "He's not giving out any fire permits, people are still allowed to do burning barrels, incinerators, and regulated fire pits," stated Widmer. There have been a few small grass fires in the County this season, but nothing that wasn't quickly put under control. 
Council reviewed changes to two bylaws, Code of Conduct and Public Meeting Procedures. The changes to both are minor and mostly to do with wording. It is part of a standard review process and a couple bylaws will be reviewed at each council meeting, if possible, in order to get through them all within the next three to five years. 
A letter was received from Erik Musekamp, who is opposed to the Raw Water Project in Winnifred along with a group of landowners. The concern is that the water will be non-potable and the group wonders why the project can't bring potable water into the Winnifred area. The contractor for the Raw Water Project is ready to install the system and will be starting shortly. The County will have to do a study on the feasibility of potable water to Winnifred, which will likely have to come from Bow Island. It will be looked into during the next budget year.
The Construction Foreman for the County resigned. The job was non-union but there are discussions about it going back to a union job and Council has written a letter of understanding to the union. It has been left with County CAO Keith Bodin and the vacancy will be posted shortly. 
One of the County service trucks was stolen off the lot of a service shop when it went in for repairs. This truck is one of a few that didn't have GPS in it and RCMP have been unable to locate it.  
It should be less than a month until the new Administration and Public Works building is complete. With the outside done, the inside work is just finishing up. Council is hoping to have one of the September meetings in the new building. All delays have been due to supply issues, but Reeve Widmer said the building project is still within budget. 
Two dips in the highway, one in Foremost and one right off Highway 3 on the 879 are both going to be fixed this autumn. One way traffic or a detour into the ditch will be used to keep traffic moving during the repairs.