Former Miss Rodeo Canada teaching students in Foremost
Posted on September 14, 2022 by Ryan Dahlman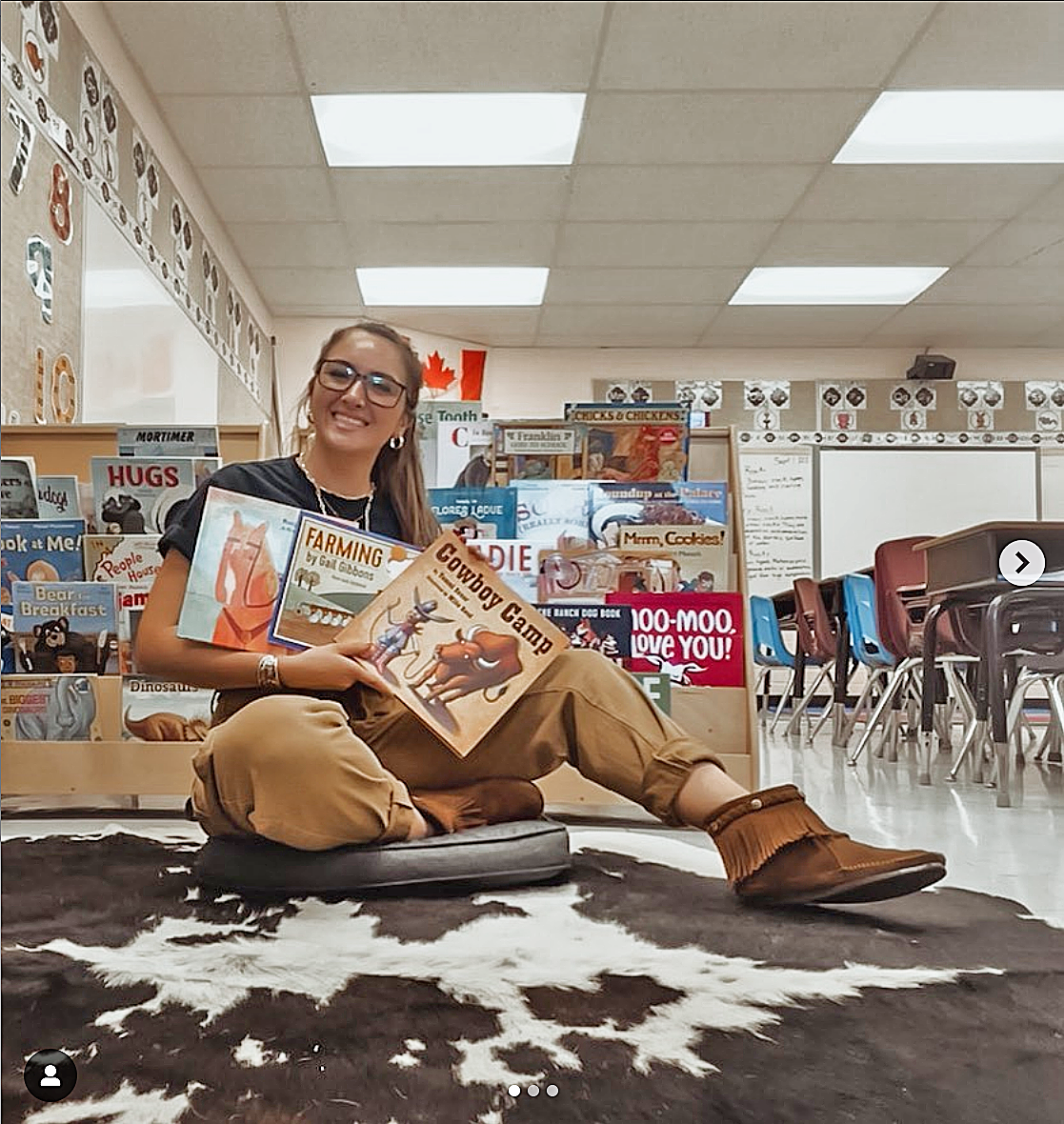 By Anna Smith
Commentator/Courier
With the love of rodeo that makes the village of Foremost special as prevalent as ever, it's no surprise that Foremost School might catch the eye of former Miss Rodeo Canada Brittney Chomistek for her first year of teaching.
Chomistek is from Medicine Hat originally, and despite being the daughter half of the first ever Miss Rodeo Canada mother/daughter duo, didn't always know she wanted to be royalty.
"Most people think like, 'did your mom encourage you to run' and my mom didn't actually she, I went to all of the Miss Rodeo Canada alumni events with her and lots of alumni stuff for the stampede, and just kind of always had been around it," said Chomistek. "And my dad's a team roper as well. And then I honestly don't really know what the actual flip was. So when I was younger, I was really into basketball."
It wasn't until after a serious incident in grade 11 that Chomistek found her passion for riding and then rodeo.
"I had to learn how to read and write and count all over again. I had to teach myself different ways I got through high school without fluctuating in the timeline at all, which I was very fortunate to be able to do," said Chomistek. "And instead of just riding, whenever I had the opportunity and spare time writing became my, my, the normal thing that I could do, I didn't need help to go out and ride, I could just go out and enjoy time with my horses. And it really was something that really was the best part of the day. I didn't need someone to help me read or to count or do my schoolwork, I was able to just go and enjoy it. And so they became instead of just an enjoyment, they really became a focus in my everyday activities."
This was also when Chomistek enrolled in 4H and became proficient in public speaking, which eventually led to her decision to run for Medicine Hat Exhibition and Stampede Queen, and after winning that title, go on to try her hand at becoming Miss Rodeo Canada.
Chomistek says that her mother was very supportive of her goal, and excited to share her wisdom both as a coach and as a parent to help her daughter on her journey, even as she had to take the first leg of her college journey at a more relaxed pace as a result.
"I grew up admiring rodeo queens, I'd always just idolized them, I never thought it was a possibility for me to be in that role, until I got older," said Chomistek. "And then it was like, I can do my best. And I can see where it takes me. And I'm very thankful for the opportunities that have been given to me. I stayed in contact with all my host families that had carried me down the road as Miss Rodeo Canada, I was able to travel internationally in the states and over in Australia."
These days, this former rodeo Queen is teaching the split grade 2/3 class at Foremost School for her first year of teaching, which is also something she didn't always know she wanted to do, but once she got the idea, she never looked back. Chomistek reminisced about volunteering in classrooms constantly when she was younger, but never considered it as a career until her father, also a teacher, broached the idea. "My dad sat me down and said, written, you know, you could choose this as a career, you're volunteering all your time, any spare time you have you're in my classroom, this is an actual career where you can turn it into a job," said Chomistek. "And I thought, you're right, I'm here every time I have a spare opportunity anyway. And so I applied for the education program and was accepted and then continued on from there."
Originally, Chomistek had planned to be a substitute teacher this year, but was fortunate enough to receive a call from principal Corey Steeves, to set up an interview and later offer her a temporary contract. The reception from the community, said Chomistek, has been incredible.
"All the teachers here have been like, 'what do you need, like, let me help you. Oh, you're doing this unit. Like I have this great resource or my wife's friend taught grade two, three. Here's all their stuff that we'd love to share with you,'" said Chomistek. "I could not believe the support everyone was giving me and showing me. I had one week to prepare for school. And I had this community around me that if I had any questions, they'd just said 'We're here to help you. We're here for you to grow with this year.' And I can't be thankful enough for that."
Chomistek would like to extend her thanks to the teachers of Foremost School and the community at large for being so welcoming of her, and looks forward to a great year with her students.
"Thank you to the community for welcoming me with open arms, not just the Foremost community, but the educational community, so many people have been there to support me with getting resources," said Chomistek.