Cherry Coulee Christian Academy principal feels blessed to a good start this year
Posted on September 22, 2022 by Ryan Dahlman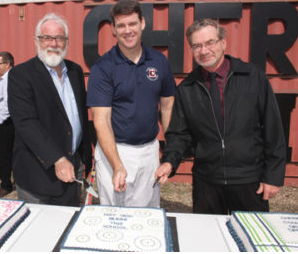 Back in 2016 at its grand opening CCCA principal, Mike Daniels (centre), is joined by Koinonia Schools superintendent, Vern Rand and assistant superintendent, Garry Anderson for the cutting of the cakes.
By Anna Smith
Commentator/Courier
With several new staff and 50 students choosing to make Cherry Coulee Christian Academy their academic home, Principal Mike Daniels is looking forward to a good school year.
"We've had a really positive start to the school year. We are thrilled with the staff. The kids have been excited to be back. It's fantastic to see their smiles," said Daniels. With 50 students, numbers are slightly down from last year, but what they lack in numbers, they make up for in enthusiasm.
Cherry Coulee has also been able to open our gym space to large rentals again and are happy to provide that service to the community, said Daniels. 
The school has  several new staff members, including a new Jr. High teacher, K-1 teacher,  educational assistants, and secretary, said Daniels. Class configurations have changed slightly in lower elementary. 
"We are continuing to work with Masters Academy out of Calgary to develop future-ready students," said Daniels. "Part of this is creating a culture within our school that communicates values of excellence and mastery."
"Some highlights coming up this school year is the Fall  Fundraiser happening on October 22nd," said Daniels. "A flag pole and new sidewalks were added around the building prior to the start of the school year. A number of our students will be attending a Leadership Conference in the fall."
CCCA also put in a new playground last spring which was a very exciting time and has been used extensively by both our students and families in the community. They plan to continue developing our greenspace throughout the year and in the coming ones.  At the Fall Fundraiser there will be a special presentation, which will be another addition to the greenspace, said Daniels.
The Academy officially opened in 2016. 
Every year brings unique challenges, said Daniels, but it's nothing that the school cannot handle with the help of each other and their faith, and outside of some extra work on teachers to accommodate, Cherry Coulee is not overly concerned about the curriculum changes this year.
"From what I have seen of the new curriculum, it looks really positive. There will be some growing pains as the curriculum is new to everyone, but that will get worked out as schools give feedback to the province," said Daniels.
" We are very excited to see what God has in store for Cherry Coulee this year," said Daniels.