Highway 3 Twinning Association
Posted on October 12, 2022 by Ryan Dahlman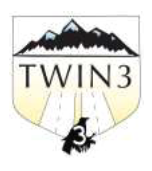 By Samantha Johnson
The Highway 3 Twinning Development Association has been working on an Economic Impact Analysis this year. An RSP was put out, proposals looked at and Price Waterhouse Cooper was selected to undertake the analysis. Stakeholders were asked for donations to help fund the analysis. The Association has lots of support and managed to obtain 100% funding. Victoria Chester, Director of Advancement for the Association, stated, "all of our economic development partnerships across the corridor supported the analysis. We put up some money, and the Department of Transportation did as well." 
The analysis got underway in July of this year. Members provided information regarding economic development opportunities for the region across Southern Alberta. "An extensive amount of documentation was received," said Chester, "and the information is currently being digested and stakeholders are being contacted to provide additional information. Next step is they will have a survey and we hope to have the study completed as a report by the end of the year." 
The report will be widely distributed, including to the new Premier of Alberta and any new ministers. A meeting is also planned to ensure they are aware of the mandate and vision for the twinning of Highway 3. 
The completion of Stage 1A at Fort McLeod has been one of the top priorities of the Association. "There has been government communication and we just continue to ask where it's at. The Mayor of Fort McLeod is on the board of the Association and nothing has been finalized yet. Our win last year was they did start to engage with Fort McLeod over the cost sharing and how that might work," stated Chester. 
Progress has been made each year. During the first year after the Association was formed, twinning for Taber to Burdett was achieved, in the the second year funding for a functional planning study with Piikani Nation was obtained and in year three Stage 1A communication began.
Chester explained, "we have to keep on them ask what is happening with Piikani Nation, what is happening with Stage 1A to make sure it doesn't get dropped. We've had some success in doing that. We met recently with Ministry and the Premier, who was recently in Piikani Nation to discuss going forward with a functional planning study. That is the only location that hasn't had one. It has to happen before they can approve twinning as Highway 3 goes through Piikani Nation between Fort McLeod and Pincher Creek."
Funding has been granted for Highway 3 twinning between Taber and Burdett, and it's been in process since then. There is a proposal on the Association website, but engineers still needed to do the design, which was finished in April 2022. An RSP was out all summer and a contractor, the proponent, is expected to be assigned within the next couple of months for construction. 
"They also had to hire a land agent," said Chester, "to speak to landowners alongside the highway in order to acquire the land between Taber and Burdett needed for twinning. It was pretty much all private land. I believe 98% of the land is acquired and there are a couple of small contracts left. At this point, the idea is construction would start as early as possible in 2023, which would be weather and proponent dependent. We keep thinking, depending on who is in government, they would want to see the shovels hit the ground before the election in May 2023. It's good to tell people because they don't see anything happening and think it's been shelved, but it hasn't."