Foremost Theatrical Society ready for Act I in early December 
Posted on October 26, 2022 by Ryan Dahlman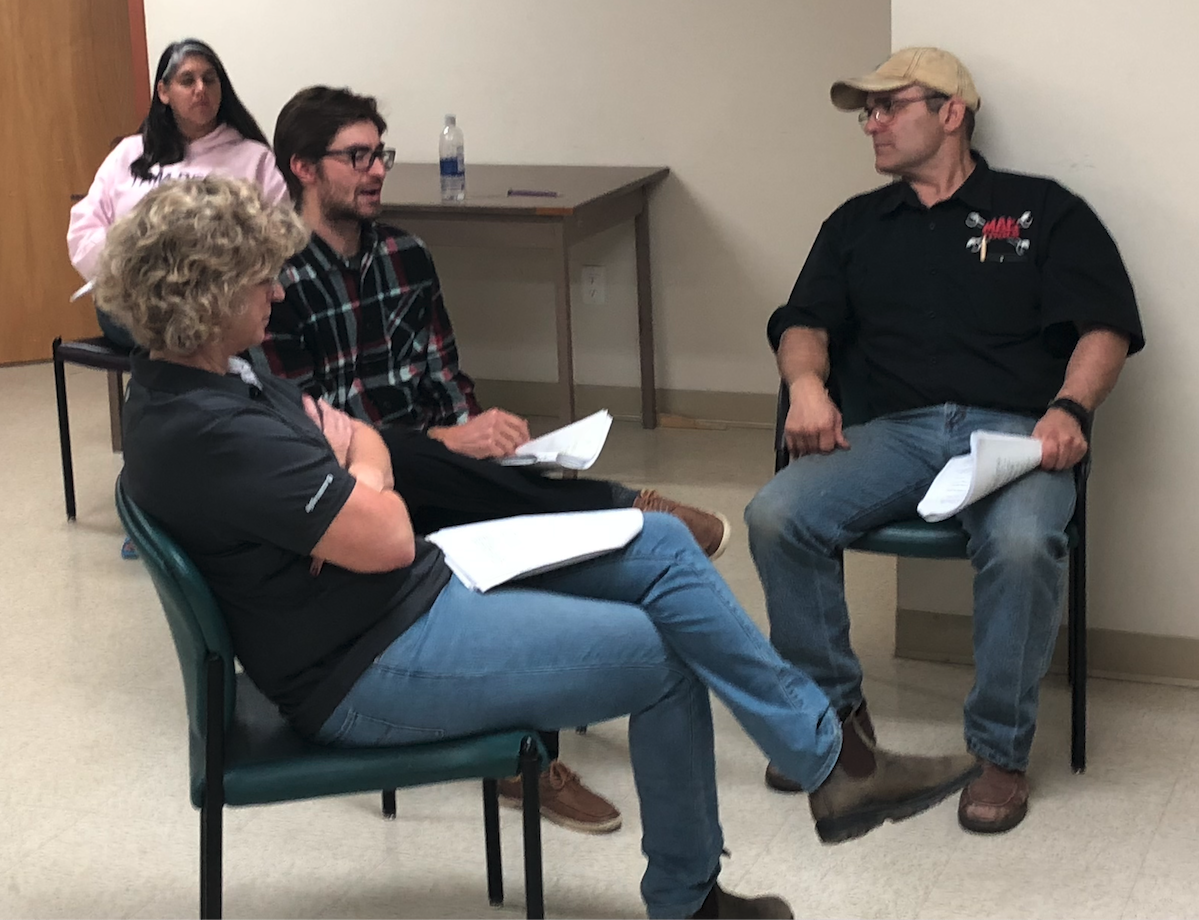 Picture of cast members going over lines, during an early rehearsal for Ned Durango Comes to Big Oak. Photo provided by Josepha Scott.
By Anna Smith 
Commentator/Courier 
After two years waiting in the wings, the Foremost Theatrical Society is ecstatic to be back in action. There have been some logistical challenges, said producer Josepha Scott, but overall, everyone is excited to be putting on a show again. 
"A couple of people have moved, for example, but they still really want to be involved. So some people are coming from Lethbridge, that maybe used to be a little bit more local to Foremost," said Scott. "And then some new faces, joining the cast and the crew and all those kinds of things. So it's really good to have that community involvement. Things that maybe would have been an obstacle really have proven to be nothing more than like a little blip through some really good teamwork." 
Scott herself moved during the pandemic, and is grateful that she's been able to continue to produce for the society from her new home. "It's absolutely worth it. Like the dinner theatre adds so much to the community. It's super, super fun to be involved with," said Scott. 
The opening of Ned Durango Comes to Big Oak, the play that was selected, is set for about a month and a half-away in early December, and the team is in full force to make sure everything is ready, said Scott. 
"We're doing a couple rehearsals a week, the sets being built, costumes are getting sorted, like all of that good stuff. And then tickets go on sale in about two weeks. So then we'll really see the influx of people getting more involved with that," said Scott. "A local business in Foremost, Agro Plus always handles our ticket sales for us. So they do us a great service because they've got an office and set hours and things like that. So you're not fielding tickets from your house. So that's really good, and it's really good to have that involvement from local businesses in the play." 
Many of the core cast have been in previous performances, which makes things easier, said Scott, and while they're not quite ready yet, she is confident that they'll be putting on a fantastic show come December. 
"It's definitely a comedy about an ageing cowboy star from the golden days of TV," said Scott. "And he comes to a little bitty town, and is kind of a star of a show, something they've got going on there. And then, as with anything, lots of comedic events take place. Pretty heartfelt, really funny. It's going to be a really, really good show." 
Scott hopes that the play with Foremost and the rest of the community, and expressed that it was perfect for their smaller group, as opposed to a larger cast, which might be difficult to do for the society. Tickets go on sale on November 7th, at the Agro Plus in Foremost, at $48 a person, which includes both dinner and the show. Scott encourages anyone looking to purchase for a large group to reach out to her or another member of the Theatrical Society as soon as possible. 
"People are really excited. As soon as posters started going up, and people were talking about the Theatre being back," said Scott. "We're all really looking forward to it."