Barnes acknowledged as Provincial government's Highway 3 twinning announcement generates excitement
Posted on December 8, 2022 by Ryan Dahlman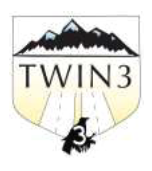 By Samantha Johnson
Alberta Newspaper Group
A well-attended press conference took place at Delta Irrigation on Gershaw Road in Medicine Hat on Friday, Nov. 25 at 1 p.m. 
Reeve Dan Hamilton of Cypress County, Reeve Craig Widmer of County of 40-Mile, Mayor Dwight Kilpatrick of Redcliff, Mayor Gordon Reynolds of Bow Island along with other councillors were among those present. MP Glen Motz, MLA Drew Barnes and former MLA Michaela Frey also attended. 
Emcee for the event was MLA for Taber-Warner Grant Hunter, who began by giving thanks to everyone present and all the municipal partners that helped work out many of the details. President of the Highway 3 Twinning Association, Bill Chapman was also thanked for all the monumental work he's done to get to this point. 
Premier Danielle Smith announced she has asked Minister of Transportation and Economic Corridors Devin Dreeshen to work on plans to twin the remaining portions of Highway 3. Smith acknowledged the other MLA's present but gave a special mention to Barnes, who has been an outspoken advocate to ensure the government prioritizes this important transportation project. 
"This come at an unprecedented time for our province," said Premier Smith. "We are facing a significant economic and political headwinds driven by global economic uncertainties and an uncooperative federal partner in Ottawa. There is no telling how long these challenges are going to last. But I can tell you the surest way to insulate Alberta from any shocks is to keep investing in infrastructure and to find new ways to support rural development. Our government understands that and we are focused on creating jobs and diversifying out economy."
As a first step, a request for proposals was sent out to three bidders and the government aims to have shovels hit the ground next Spring for the 46 km of highway from Taber to Burdett. Smith stated she's asked Dreeshen to expand economic corridors that link Alberta with trading partners. Particularly true in Southern Alberta, home to so much of the agrifood and manufacturing sectors. 
"Getting products to market, to customers quickly and cost effectively matters more than ever. It's the key to attracting fresh growth and investment." 
She went on to say it was the key to building a reputation as a trusted supplier across Canada and the world. "In fact, it was Highway 3 that was first opened and provided the only route out of BC during the floods last year."
"I've asked Minister Dreeshen and his team to accelerate priority investments in transportation projects and I've asked them to expand economic corridors that link our province with major trading partners. That is especially important here in Southern Alberta, which is home to so much of our agrifood and manufacturing sectors." 
Dreeshen explained the twinning was going to be done in eight phases, with the first one being Taber to Burdett. Regarding the other seven phases, Dreeshen stated, "there are lots of functional planning studies to go and lots of land to be bought and we have to make sure that everyone in the area, whether it is Bow Island or Piikani Nation, that they are involved in the planning process so we get the best route possible when we finally make it from Medicine Hat to BC with a twinned Highway 3." 
With about 100 km of the highway already twinned, the other 215 km will be staged out over the next 10 years. Smith stated Highway 3 was the number one issue she heard about during the byelection campaign and is one that affects multiple ridings. She discussed other corridors being worked on and said, "I think making it easier to go east west and north south will attract more investors here."
Regarding the 15 km stretch of Highway 3 out of Medicine Hat, Dreeshen said planning studies have been completed and engineering will be done in Spring of 2023. Once that is completed, they will know what the design will look like and will be able to release more information. 
The Highway 3 Twinning Development Association was thanked several times for keeping the pressure on government. "You now have a government that listens and responds to your concerns," stated Smith. "We will build a stronger, safer, more economically resilient Sothern Alberta together." 
MLA Drew Barnes was "pleased they are moving the previous announcement forward to the actual building and implementation stage. I'm so pleased this recognizes the importance of Southern Alberta and where commodities, agriculture and oil and gas are produced. It is so time to see Alberta outside of Edmonton and Calgary are being recognized for our needs."
Barnes has been advocating for the twinning of Highway 3 for all of the 11 years he's been MLA. He's been part of Bill Chapman's committee. First for economic corridors and the economic advantage it would provide to Medicine Hat and Cypress County. However, he is also concerned about safety. 
"Ten years ago, it was clear that some parts of Highway 3 had higher traffic counts than Highway 63 up to Fort McMurray. It's essential for the safety of our residents. The fact that the provincial government is putting their attention and their money behind it is the first step."
Chapman feels that the Highway 3 Twinning Association still has work to do to ensure the plan moves forward and doesn't get stalled in the future should there be a change in government. 
"It would be up to the board to recognize what the next steps will be. I think we would want to continue to advocate for the whole twinning project. That's the most important thing for all of us and to making sure all the stakeholders are well versed in what is going on and that our relationship with the government of Alberta stays in place."