Even a bad break in the finals can't ruin a fantastic year for Barrows
Posted on December 9, 2022 by Ryan Dahlman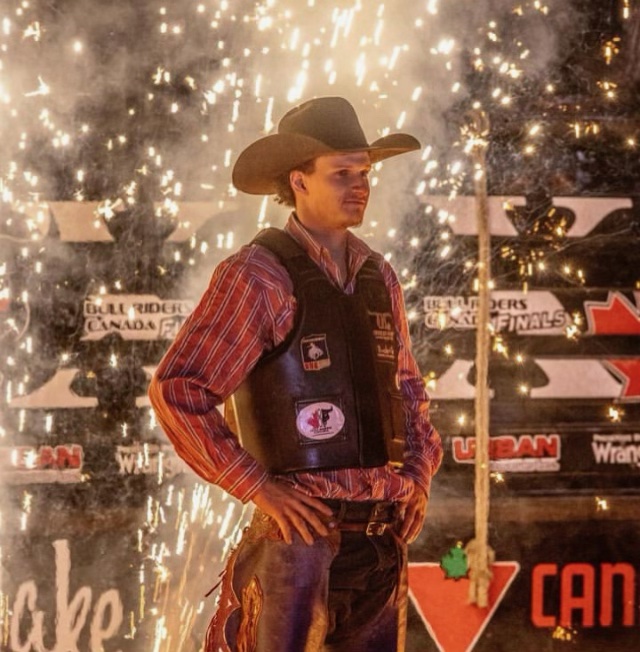 William Barrows from night one of the BRC finals. Barrows got 85 points on BRC Bull of the Year, DT Bucking Bull's "Lightning McQueen." Photo by Ray Watkins
By Anna Smith
Commentator/Courier
He ended 2022 with a broken record in November and Foremost's own William Barrows proved he will be a force to reckoned with in the future.
Already looking forward to the next bull-riding season, Barrows finished out this year's Bull Riders Canada season in second place overall, as the #1 Rookie, and having broken the record for earnings within a single season.
"The previous record was around 35,000 or something in a single season and I broke it with winning over 65,000," said Barrows. 
This success came at a price, however, as on the second day of the BRC finals, Barrows broke his leg, which he believes is what cost him his top spot for the season.
"I finished this last season in the BRC in second, only 120 points behind the number one guy (Paraguay's Fabian Dueck) and then after the first night at the BRC finals, I'd moved myself into the number one position in the nation," said Barrows. "Then the second night I had two bulls and on my first bull, I broke my leg so then I never got to finish the finals there. (Dueck) that I had just passed, passed me after I broke my leg."
While slightly frustrated he is injured, Barrows is itching to get back in the saddle and is targetting the Professional Bull Rider's cup series in Lethbridge.
"I even impressed myself on how good of a season this was and really just had the ball rolling — never got myself down at all," said Barrows. "I'm hoping to be back at the beginning of March, but only time will tell."
"I started this last season, coming off the injured list and now it's pretty much going to be starting this next season coming off the injured list again. Hopefully it kind of just goes about the same and this proves to everybody that I'm still capable of doing all of this." 
Barrows attributes some of his success to his community, and noted the Foremost School's new Rodeo Academy as an exciting development and a great choice for those looking to get into rodeo… perhaps even a path to bull riding.